Students compete at Kennedy Center American College Theater Festival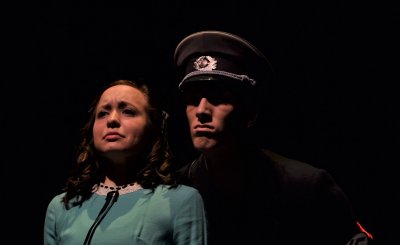 By Siana Emery
A version of this story originally appeared in The Record
While most people at Goshen College were beginning classes last week, students in the theater department travelled to Indianapolis for the Kennedy Center American College Theater Festival (KCACTF). Fourteen students and three faculty members attended the festival, which took place Jan. 9-14.
Regional festivals are held nationwide. Goshen College is a part of region three, which covers Wisconsin, Illinois, Michigan, Indiana and parts of Ohio. At KCACTF, theater students from across the region compete in acting and design competitions, present work from previous productions, attend workshops and see performances. Anna Kurtz Kuk, professor of theater at Goshen College and faculty chaperone for the festival, said that KCACTF is "a week packed full of amazing theater opportunities."
Jonathan Bontrager-Waite, a first-year theater major from Goshen, submitted a one act play he had written, titled "MoMA".   He was selected as a regional finalist, which means he will now compete to move on to the national festival at the Kennedy Center.
"Jonathan was one of four out of 45 chosen to have a reading of his one act play at the festival," said Kurtz Kuk. "While we've had student playwrights accepted for staged readings at the festival in the past, we have not had a student become a regional finalist in the playwriting competition before, so Jonathan's recognition is a first for us."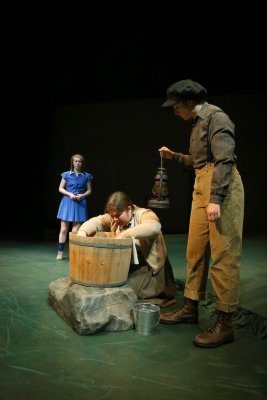 Several Goshen College students were nominated to compete based on previous work on productions on campus. Lauren Myers, a sophomore biology major from North Manchester, Indiana; Ben Meyer Reimer, a junior theater and music major from Goshen; Jessica Croy, a first-year theater major from Goshen; and Kailey Rice, a first-year American Sign Language and music major from Frisco, Texas, were all nominated to compete in the Irene Ryan Scholarship Auditions. Meyer Reimer noted that it is always enjoyable to see what and how students from other schools perform, despite them being his competitors.
Riley Woods, a 2017 graduate, presented his work as a lighting designer in "Kindertransport" and "Mother Hicks," and was chosen to be one of the stage managers at the festival. Claire Mitchel, a junior theater major from Carmel, Indiana, presented her work as a dramaturg.
Julian Harnish, a senior music and mathematics major from Bluffton, Ohio, earned a certificate of merit for original music composition for "KinderTransport," and Shianne Harrison, a first-year broadcasting and theater major from Elkhart, Indiana, earned a certificate of merit for acting performance in "Mother Hicks."
Aside from competition, the festival also brought opportunities for students to attend classes, performances, talks from professionals and other events, including full and partial productions brought by other colleges and universities.
"It's really easy to get caught up in what your own school is putting work into, but so many colleges and universities are presenting stories that deal with really tough concepts and issues," said Myers. "For me, this is what theater is all about. It's a collaborative art."
Jonah Yoder, a junior interdisciplinary studies major from Goshen, said that "this festival is every theater person's dream. People come to compete for scholarships, learn from professionals, and simply celebrate the art that is theater."
"It's a little intense," said Meyer-Reimer, "but it's also a really fun place to be for anyone in college who enjoys being immersed in theatre."
After two years in Indianapolis, the annual week long event moves to Madison, Wisconsin next year. Goshen College plans on sending a similar sized group of representatives.