Two Goshen College art alumni to show design work
Gallery Exhibit: Joseph Shetler and Jordan Kauffman
Reception Time & Date: Sunday, Jan. 28, 2 – 3:30 p.m. (artist talk at 3:30 p.m.)
Exhibition Dates: Jan. 28, through Sunday, March 18, 2017
Location: Hershberger Art Gallery, Goshen College Music Center
Cost: Free and open to the public
---
Two Goshen College graduates, Joseph Shetler and Jordan Kauffman, will display their art and design work in the Music Center's Hershberger Art Gallery from Jan. 28 through Sept. 17, 2018. They will host a reception on Sunday, Jan. 28, at 2 p.m. in the gallery, with an artist's talk at 3:30 p.m.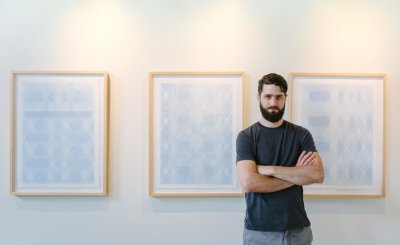 Joseph Shetler is a 2006 Goshen College graduate who currently lives in Washington, D.C. He approaches post-minimalism with a Mennonite lens, basing his aesthetic off of Anabaptist theology and simple way of life as well as art history.
"The presence and value of simplicity in my upbringing has greatly inspired my practice, both conceptually and aesthetically," Shetler writes in his artist statement. "In earlier work, I had been using the grid as a tool to layout my geometric drawings that were loosely based off of the quilts of Mennonite tradition. Through labor, my relationship with the grid eventually shifted from it being an instrument or tool to achieve a subject to it becoming the subject itself. The grid lends itself to simple patterns and progressions, creating logical drawings that have a sense coherency."
Before Goshen, he studied at Hesston College, and earned a Master of Fine Art degree from Arizona State University in 2014. Shetler has participated in residencies at Pyramid Atlantic, Ragdale, Anderson Ranch and Vermont Studio Center.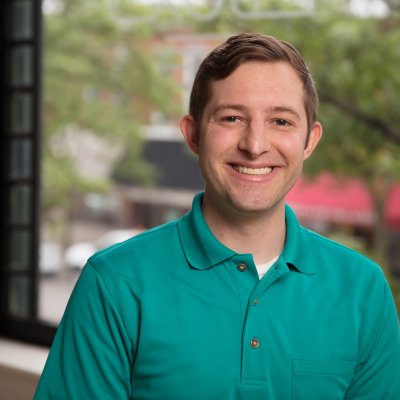 Jordan G. Kauffman graduated with a degree in art with an emphasis in graphic design from Goshen College in 2011. His research focuses on the intersection of social innovation design, entrepreneurship and project evaluation. He believes that design has an important role to play in developing human-centered and sustainable solutions to some of the world's most pressing social problems.
Kauffman holds a Masters of Fine Arts degree in visual communication design from Kent State University and is currently continuing his research at the University of Notre Dame as the visual communication design research associate in the department of art, art history and design. In addition to his work at the University of Notre Dame, Kauffman is a partner at Lightbox Collective, a design collective in downtown Goshen, where he works with a variety of clients in the nonprofit, for-profit and social innovation sectors.
All events are free and open to the public.
The Hershberger Art Gallery is located in the Music Center and is open from 9 a.m. to 4 p.m. Monday through Friday, and from 2 to 4 p.m. Saturday and Sunday. The building is accessible to people using wheelchairs and others with physical limitations.