GC receives grant to bring traveling exhibit about conscientious objectors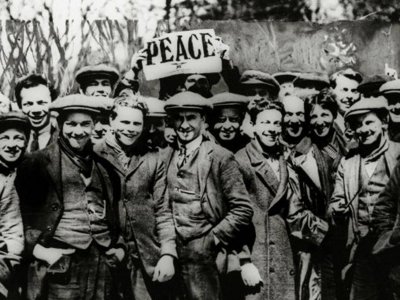 Indiana Humanities has awarded Goshen College a $2,000 Humanities Initiative Grant to bring a traveling exhibition titled "Voices of Conscience: Peace Witness in the Great War" to campus.
The exhibit, which explores the experiences of conscientious objectors during World War I, comes from the Kaufman Museum in North Newton, Kansas, and the World War I Museum in Kansas City, Missouri.
The exhibit is tentatively scheduled to come to Goshen in Feb. 11 through April 8, 2018.
Organizers will supplement it with additional programming, including a lecture and a one-man performance, to educate audiences about pacifism in World War I and more broadly to raise questions about personal, religious and civic values during times of national mobilization.
"Voices of Conscience" remembers the witness of peace-minded people against the First World War, 1914-1918. This witness included men and women, religious believers and secular humanitarians, political protesters and sectarian separatists.
The "war to end all wars" involved troops from more than 100 nations, resulting in more than 38 million military and civilian deaths.
Many individuals resisted U.S. involvement in the war, the enactment of military conscription, war bond drives and the denial of freedom of speech under the Espionage and Sedition Acts. For this resistance, they suffered community humiliation, federal imprisonment and mob violence at the hands of a war-crusading American public.
Many of their stories converged in the Midwest. Nearly 600 conscientious objectors were imprisoned at Fort Leavenworth and several died. Mennonite farmers in south central Kansas who refused to buy war bonds were tarred and feathered. A building at a Mennonite college was burned to the ground.
Voices of Conscience shares these stories and many others. It lifts up the prophetic insights and the personal courage of WWI peace protesters and suggests parallels to the culture of war and violence in our world today.
The exhibit is organized in ten themes that encourage exploration and reflection. The theme modules surround a recreation of an Alcatraz Prison cell, the site where Hutterite conscientious objectors were punished for refusing military participation. Text and quotes provide interpretation and raise provocative questions for viewers while large-scale graphics and photomurals immerse visitors in the historical experience of witnessing for peace during "total war."
A collaborative team of historians and museum professionals is developing Voices of Conscience at Kauffman Museum. The exhibit is based on Kauffman Museum's 30 years of experience in designing and building award-winning projects with a specific focus on innovative approaches to traveling exhibits.