Tree planting honors Carl and Evelyn Kreider
On Nov. 1, 2017, a small gathering of family and friends honored the life and work of Carl '36 and Evelyn '36 Kreider, planting two Frontier Elm trees on the lawn on the west side of the Visual Arts Building (the old Memorial Library). The Kreiders faithfully lived their lives in God's grace and were pillars of consistency, excellence, caring guidance and hospitality for generations of Goshen students, faculty, staff and neighbors.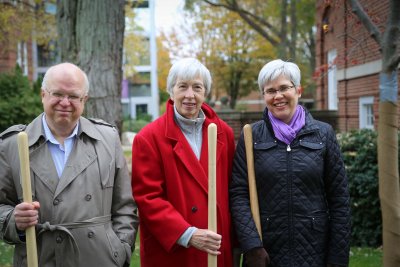 When Academic Dean H.S. Bender vacated the deanship at Goshen College in 1944, Carl, an extremely capable young Goshen alumnus with a Princeton doctorate in economics who had joined the faculty in 1940, became the college's academic dean, a post he would hold for close to thirty years. Twice he served as acting president, in 1950-51 and in 1970-71, and in 1971-72 he was the college's first provost
Evelyn Burkholder Kreider was an understanding companion to Carl throughout his deanship, interim presidency and teaching. She graciously hosted many social occasions that refined into elegance the modest entertaining budget at her disposal.