Three CSA youth choirs to perform in fall CSA Showcase Concert
Event: CSA Choral Showcase Concert
Date & Time: Sunday, Nov. 12, 2017, 4 p.m.
Location: Sauder Concert Hall, Goshen College Music Center
Tickets: $8 adults, $6 seniors/students. Online at goshen.edu/tickets or (574) 535-7566. GC faculty/staff/students free with valid ID.
---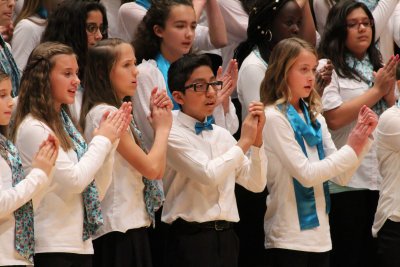 Three Community School of the Arts youth choirs with students in grades 3-12 will perform in the Fall CSA Choral Showcase Concert, Sunday, Nov. 12 at 4 p.m.The concert will be held in Sauder Concert Hall in the Goshen College Music Center.
Performing will be Rejoice (grades 3-5), directed by Kristin Kauffman; Shout for Joy (grades 6-8), directed by Sandy Hill; and Sommo Voci (grades 9-12), directed by Marcia Yost.
Each choir will perform individually on the Sauder Concert Hall stage. The concert will include both sacred and secular works, as well as selections from musicals "Matilda" and "Hunchback of Notre Dame."
Tickets are $8 adults, $6 seniors/students. Online at goshen.edu/tickets or (574) 535-7566. Patrons are advised to purchase their tickets in advance.
Kristin Kauffman is a graduate of Goshen College with a BA degree in Music Education. She served as Choral Director at Central Noble High School and Middle School in Albion (Ind.) from 2000-2004 where she also provided private voice instruction and taught courses in Music Theory and Musical Theater. Kristin has privately taught students throughout Elkhart and St. Joseph counties and currently teaches voice at Fairfield Junior/Senior High where she also was recently appointed the Junior High Choral Director. Beyond the classroom, Kristin is an adjudicator with the Indiana State School Music Association, a guest song leader for area retreats and conferences, a soprano soloist, and a clinician who was selected by the Indiana Music Education Association as the guest conductor for the 2017 Circle the State with Song Elementary Choral Festival. She is a member of Belmont Mennonite Church in Elkhart (Ind.) where she is active in music leadership. This is Kristin's 6th season as Director of the Rejoice Children's Choir.
Sandy Hill is a graduate of the University of Texas at Austin with a MM degree in vocal performance. She has performed various roles in musical theater productions, including Julie Jordan in Carousel, Sister Mary Amnesia in Nunsense, and Patience in Patience for which she was nominated for Outstanding Lead Actress by the Austin Circle of Theatres. Sandy also directed the Wausau (Wis.) Conservatory Choraliers children's choir, who performed at the White House. She was selected as a National Association of Singers (NATS) intern at Penn State University in 1997. She has taught vocal instruction at various schools in the Goshen community since moving here with her family in 2000, including Goshen High School, Northridge High School, and Bethany Christian Schools. Sandy has directed Shout for Joy since 2008. This past summer Sandy and her daughter Molly were seen in Hello, Dolly! Portraying the roles of the hat ladies, Irene Molloy and Minnie Fay at Bristol Opera House.
Marcia Yost is currently the Goshen College Director of the Arts after three years as the executive director of the Music Center. She recently retired from a 40-year career in public school music education where her passion for music helped to build a highly recognized program of music education for the Goshen Community Schools. Her current position at Goshen College includes working with the arts programs at Goshen College to create further engagement in the community and region with what GC has to offer in arts education and entertainment. Her work includes helping to establish Goshen College as a hub for Music for Social Change, arranging choir festivals and tours, and working to widen Goshen College's footprint in the arts community locally and beyond through a variety of initiatives. Ms. Yost holds a B.A. in Music Education from the University of Indianapolis and a M.M. from Western Michigan University. She loves being able to call Goshen her lifelong hometown.
The mission of the Goshen College Music Center is "Enriched lives and enhanced community through quality artistic programming and educational opportunities for all." The Community School of the Arts serves hundreds of community families each season, offering private lessons, three youth choirs, five orchestras including the Elkhart County Youth Honors Symphony and Concert Orchestras, and Music Together classes for preschool children in Elkhart County. Need-based scholarships are available for every CSA activity. For more information, please visit www.gcmusiccenter.org or call 574-535-7361.