Rieth Chamber Series: Milton String Quartet
Concert: Rieth Chamber Series: Milton String Quartet
Date and Time: Sunday, Oct. 15, 2017, 7:30 p.m.
Location: Goshen College Music Center's Rieth Recital Hall
Tickets: $16 (Buy online)
---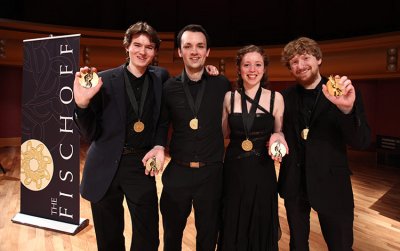 The Milton String Quartet will present a Rieth Chamber Series concert on Sunday, Oct. 15 at 7:30 p.m. in Goshen College Music Center's Rieth Recital Hall.
Grand Prize and Strings Gold Medal Winners of the 2017 Fischoff National Chamber Music competition, the Milton String Quartet is based in Montreal, Quebec, where quartet members study at McGill University's Schulich School of Music.
The ensemble was the 2017 Fellowship String Quartet at ENCORE Chamber Music in Cleveland, Ohio, and was named winner of the 2016 McGill University Chamber Music Competition, earning an exchange in May 2017 with the Mozarteum Universität in Salzburg, Austria.
In addition to their Midwestern United States tour, the quartet's fall season includes debut performances in Ontario and New Brunswick, and they will attend the Emilia Romagna Music Festival in Italy in summer 2018 as part of the Fischoff Grand Prize.
Milton members are top prizewinners in many Canadian and international competitions, including the Concours de musique du Canada and the Concours de musique classique de Pierre de Saurel, and have pursued musical studies at McGill, Colburn, Oberlin, and Indiana University.