Grammy-winning Mary Chapin Carpenter brings country music back to the Sauder Concert stage
Concert: Mary Chapin Carpenter
Date: Saturday, Oct. 14, 2017
Time: 7:30 p.m.
Location: Goshen College Music Center's Sauder Concert Hall
Cost: $45, $40 or $30 (buy tickets)
---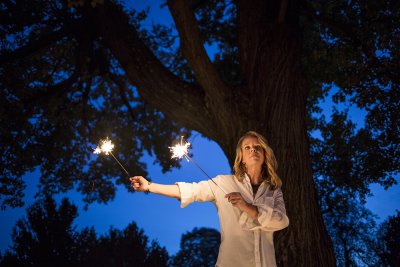 Five-time Grammy Award-winning singer-songwriter and Nashville Songwriters Hall of Fame inductee Mary Chapin Carpenter returns to the Sauder Concert Hall stage to perform her expansive 14-album catalog and new songs from her latest record "The Things That We Are Made Of" on Saturday, Oct. 14, 2017 at 7:30 p.m.
Her recent album was released on May 6, 2016 and produced by 2016 Grammy-nominee Dave Cobb, the latest album offers listeners a look into Carpenter's beating heart features eleven new songs written by Carpenter, and has received critical acclaim from NPR and Rolling Stone, among others.
Now at the peak of her music career, Carpenter is changing the face of country music with her lyrical ability to paint a compelling, relevant piece of art.
Carpenter was born and raised in Princeton, New Jersey and lived in Japan in 1969 to 1971 before moving with her family to Washington, D.C. where she became involved in the city's folk music scene, performing mixtures of originals, contemporary singer/song-writer material and pop covers.
Tickets are $45, $40 or $30 and can be purchased through the Goshen College Box Office (574-535-7566, boxoffice@goshen.edu) or online at www.goshen.edu/tickets.
Be sure to look out for future concerts in the performance art series:
Sunday, Nov. 5, 2017, 7:30 p.m. - Time for Three
Tuesday, Nov. 14, 2017, 7:30 p.m. - The Knights
Friday, Dec. 8, 2017, 7:30 p.m. - Chanticleer
Friday, Feb. 9, 2018, 7:30 p.m. - Yamato: The Drummers of Japan
Saturday, March 3, 2018, 7:30 p.m. - The Chieftains
Sunday, April 15, 2018, 7:30 p.m. - The Wailin' Jennys
Thursday, June 7, 2018 - Audra McDonald (this performance has been moved from Feb. 23, 2018, due to a  last-minute conflict with Ms. McDonald's filming schedule for the CBS All-Access series The Good Fight. We apologize for the inconvenience.)