Family members to reflect on life and work of former GC president J. Lawrence Burkholder
Lecture: The Life of J. Lawrence Burkholder From the Children
Date and Time: Tuesday, Sept. 12, 2017 at 1 p.m.
Location: Goshen College Music Center's Sauder Concert Hall
Cost: Free and open to the public
---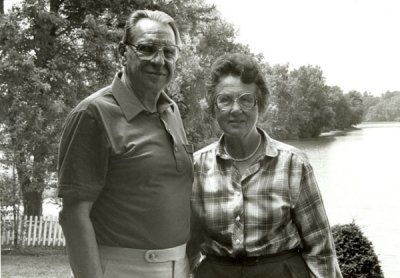 Myrna Burkholder and Janet and Lauren Friesen will present stories and reflections on the life and faith journey of J. Lawrence Burkholder on Tuesday, Sept. 12, 2017 at 1 p.m. during an Afternoon Sabbatical presentation in Sauder Concert Hall.
Burkholder was an influential figure in the Mennonite church, having played many significant roles throughout the 20th century, including pastor, professor, pilot, civil rights activist, war-time relief worker and Goshen College president. He died in 2010.
Born in Newville, Pennsylvania. in 1917, Burkholder graduated from Goshen College in 1939. He married Harriet Lapp, and they had four children. He received a bachelor of divinity degree in 1942, a master of theology degree in 1951, and a doctor of theology degree in 1958. He also spent significant time in both China and India before returning to the United States to teach.
Prior to serving as Goshen College's 11th president from 1971-1984, Burkholder taught at Harvard Divinity School. Initiatives on campus during his term included environmental protections and tree-planting, development of the first undergraduate exchange program with the People's Republic of China that still exists today, as well as a large growth in the endowment fund that took place during his time in office.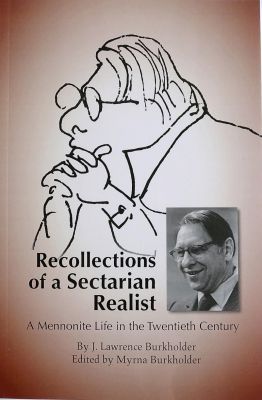 A recently-published memoir titled "Recollections of a Sectarian Realist: A Mennonite Life in the Twentieth Century" traces the development of Burkholder's thought as it intersected with the events of his life. The memoir is based on interviews that C. Arnold Snyder conducted with Burkholder in 2005. Burkholder and Myrna Burkholder, one of his daughters, worked on editing the transcripts until he became too ill to focus on the project. Several years after he passed away at age 92, Myrna Burkholder returned to the project and finished editing the volume.
This event is presented as the first lecture in the 2017-18 Afternoon Sabbatical program, a yearly lecture series with on-campus programs held on a Tuesday each month during the school year and bus trips for off-campus tours.
Future events in the Afternoon Sabbatical series include:
Sept. 19-21, 2017 — Theater Trip to Niagara-on-the-Lake
Oct. 17, 2017, noon — International Luncheon with Dean Rhodes: Traditional and Modern Morocco, Unique Among Muslim Nations
Nov. 7, 2017, 1 p.m. — Marshall King: From Bowers to Venturi: How We Eat Differently in the Maple City
Dec. 12, 2017, 1 p.m. — GC Music Faculty: A Musical Feast
Feb. 13, 2018, 1 p.m. — Diana Lawson: Why Quality of Place?
Feb 28, 2018 — Chicago Theater Bus Trip: Love Never Dies
March 13, 2018, 1 p.m. — Rosalyn Troiano: Jubilate Deo
April 9, 2018, 1 p.m. — 40th Anniversary Celebration