Young writers get the scoop on sports reporting
Sports reporters gathered at Goshen College for two weeks in July to hone their craft. The only catch? They were middle schoolers.
As part of the Goshen Write on Sports camp, thirteen students from area schools joined a teaching staff of five to interview athletes, research and publish  feature articles, and edit and produce videos over the course of two weeks on GC's campus.
"We celebrated the fifth annual Goshen Write on Sports camp with a sense of strong support from our returning teachers and students," said Duane Stoltzfus, chair of the Communication Department at Goshen College and director of the camp.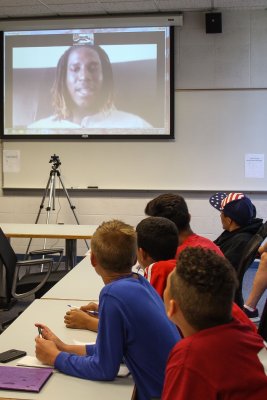 Although numbers were down from previous years, campers engaged enthusiastically and produced quality content. They posted stories on the student blog and Stoltzfus updated the camp blog with photos and reflections as camp progressed, as well as contributed to a new Facebook page created in the hopes of growing community support.
Students had the chance to observe professional reporters interviewing professional athletes, as well as the opportunity to ask questions themselves. They then wrote "spot stories" after the interview, practicing getting quality information from quick interviews and turning it into a story under an aggressive deadline.
"We were delighted with our guests on campus, both athletes and journalists, including a professional soccer player, Femi Hollinger-Janzen, who joined us via video right after practice in Boston," said Stoltzfus.
In addition to Hollinger-Janzen, a Goshen native who graduated from Bethany Christian High School and Indiana University alum who now plays for the New England Revolution, students had the chance to interview Team USA Paralympic athlete Sam Grewe, Goshen College basketball player Sophie Sears, and GC employee Bob Toews, who competes in tower racing events across the country.
Stephen Brooks, sports editor at The Goshen News, and Anthony Anderson, former sports editor at The Elkhart Truth, served as guest interviewers.
Outside of the classroom students had the chance to speak to two Division I athletes and a professional baseball player.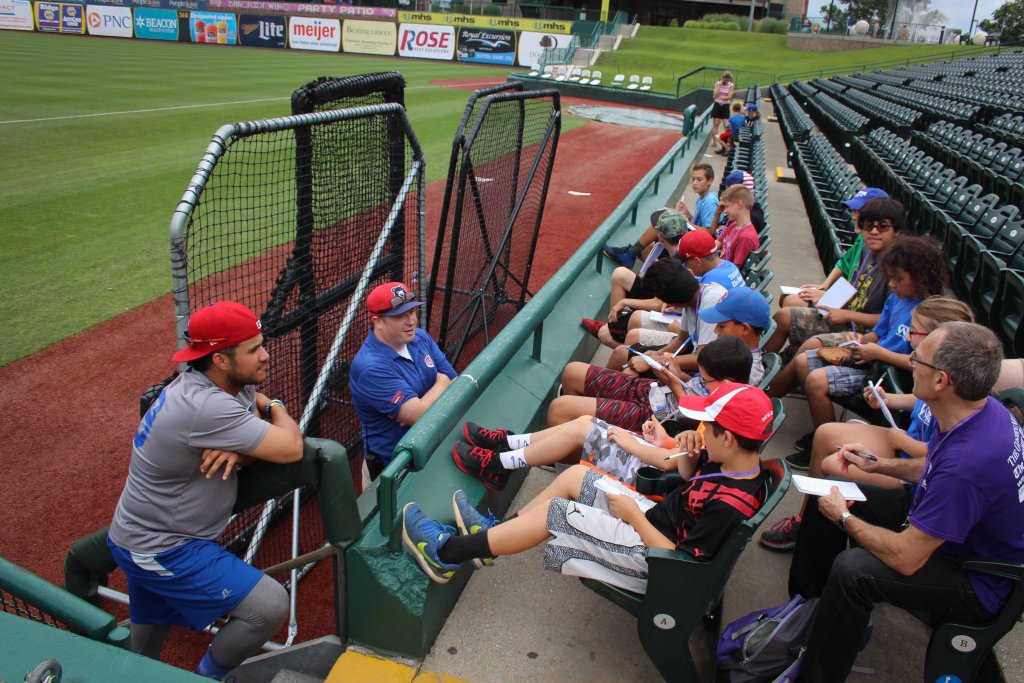 "As always, one of the highlights was attending a South Bend Cubs game and interviewing athletes there and at the University of Notre Dame," said Stoltzfus.
At Notre Dame campers interviewed basketball player Rex Pflueger and mid-distance runner Samantha Murray. Afterwards, students wrote stories about their time and interviews at Notre Dame, and one reporter-in-training was even published on Notre Dame's website.  At the South Bend Cubs game students were able to talk with third baseman Vimael Machin before batting practice.
After the fifth Write on Sports summer, Stoltzfus, sponsors and teaching staff look towards the program's future. This includes goals to expand enrollment, as well as continuing to connect with local professional and rising athletes, and top universities and newspapers in the area. Write on Sports camp, which seeks to enroll students of academic promise, is tuition-free, thanks to generous donations from sponsors and individuals.
Bria Carboneau and Rossa Deegan from Goshen Middle School and Philip Habecker of Concord were all returning teachers; Carboneau and Deegan for their fifth consecutive year and Habecker for his second. They were joined by GC senior interns Bella Torres and Katie Hurst.
And as students head back to school not long after the conclusion of the program, the hope is that Write on Sports skills stay with them.
"The greatest measure of our success," said Stoltzfus, "will come in quiet moments throughout the academic year when students put words to paper or screen with a newfound sense of confidence and skill."
- By Katie Hurst