Inherited quilts from Yellow Creek Mennonite Church to be displayed
Art exhibit: "Inherited Quilts 3: Yellow Creek Mennonite Church"
Reception date and time: Sunday, Sept. 10, 3-5 p.m. (exhibit open Sept. 10 through Nov. 12, 2017)
Location: Goshen College's Harold and Wilma Good Library Gallery
Cost: Free and open to the public
Sponsor: The Mennonite-Amish Museum Committee of Goshen College
---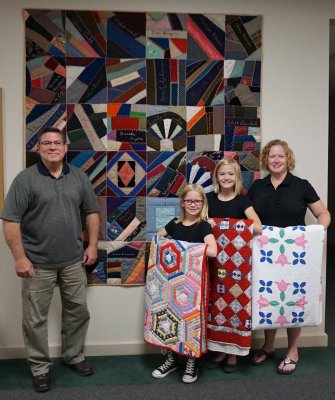 A third installment of inherited quilts, this time from Yellow Creek Mennonite Church, feature in a new exhibit at the Goshen College Library Gallery. A public reception will take place on Sept. 10 from 3-5 p.m. The exhibit will continue through Nov. 12, 2017.
Like the first and second "Inherited Quilts" exhibit in 2013 and 2016, respectively, this exhibit honors the long tradition of Mennonite women who make quilts for relief and service projects. The first exhibit featured quilts from College Mennonite Church in Goshen, and the second featured quilts from Clinton Frame Mennonite Church in rural Goshen.
In "Inherited Quilts 3," antique and vintage quilts will be displayed that have descended through two, three and four generations of families at Yellow Creek Mennonite Church, located on County Road 11, west of Goshen.
The quilts include patchwork, appliqued, embroidered and sateen whole cloth quilts. Photographs and notes on makers and owners add historical and cultural context.
The exhibit is sponsored by the Mennonite-Amish Museum Committee. The exhibit is open during library hours, which vary throughout the school year. See the Good Library website for current hours.