Sculpture for service: GC alumni display artwork at Wellfield Botanic Gardens
Exhibit: "Sculpture in the Gardens: Heavy Metal"
Dates: May 13 - Sept. 30, 2017 (Mon.-Sat., 9 a.m.-7 p.m.; Sun., 11 a.m.-5 p.m.)
Location: Wellfield Botanic Gardens, 1011 N Main St, Elkhart, Indiana
Cost: Free for members and children under 3; $5 adults; $3 children (ages 3-12)
---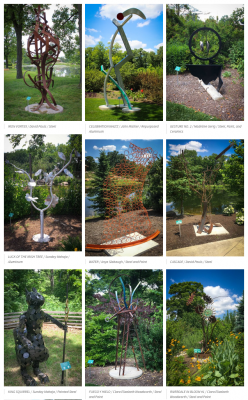 John Mishler, associate professor of art at Goshen College, always tells his students that making sculptures and putting them in a basement or garage doesn't do anyone any good. So when the opportunity came for him and his students to showcase their work at the Wellfield Botanic Gardens in Elkhart, Mishler took it.
The exhibit, "Sculpture in the Gardens: Heavy Metal," opened on May 13 and will run through Sept. 30 at the Wellfield Botanic Gardens.
The exhibit features 10 large-scale sculptures on display throughout the botanical gardens and is presented by the Elkhart County Convention and Visitors Bureau, with support from Vision in Mission and Goshen College. During the exhibit's run, artist presentations, guided tours and "meet the artist" opportunities will be scheduled.
"Sculpture at GC is often an overlooked program … but we have some really interesting and exciting work that comes out of our program," said Maddie Gerig, a 2017 graduate from Goshen who majored in art.
Nestled behind the Physical Plant building on the Goshen College campus sits the Chairman Building, a non-descript building to most who pass by. But, it houses the campus sculpture lab and all sculpture classes.
Above the door to the building is a sign that reads "Sculpture for Service," a clever play on the Goshen College motto, "Culture for Service." Inside, the lab is full of completed and in-process sculptures. Some of the sculptures are tall, some painted, others naturally rusted, most are either steel or aluminum, but all are made from repurposed materials.
"We like the idea of taking things that have been discarded by industry," said John Mishler, "and making something out of it."
Mishler teaches sculpture part-time and is a full-time artist, with sculptures all over the world: some on the college's campus, and others in the south of France. Mishler makes sculptural furniture and sculptures for private collections, but he is best known for his large-scale, kinetic public sculptures.
"I see sculpture and public art as a way of connecting with people in ways that they don't expect to," he said. "If you put a sculpture outside, people can't ignore it. They have to look at it, and hopefully they'll enjoy what they see."
Mishler is a 1972 graduate and has been teaching at Goshen College since 1985.
"I like seeing my students develop as human beings, but also as artists and sculptors," he said. "Usually they haven't done it before, so it's nice to see them get excited about sculptures. Often when they take sculpture class, it changes their whole point of view of making art."
For Gerig, who specializes in ceramics, sculpture did exactly that. "My favorite part of creating sculptures is that there are no rules," she said. "I love that I can use any material to create my work, and I don't have to treat it like it's precious."
For Anya Slabaugh, a 2017 graduate from Kalona, Iowa, who majored in art, students in the GC sculpture program are lucky to have Mishler.
"He is genuinely interested in what students are creating and helping them to reach their full potential," Slabaugh said. "As a full-time artist and part-time professor, John brings perspectives and understanding that you don't always find in a traditional art class."
At Wellfield Botanic Gardens, Mishler's two sculptures, "Summer Carousel," a painted steel sculpture, and "Celebration Waltz," a repurposed aluminum sculpture, are displayed alongside sculptures from Slabaugh and Gerig, as well as three other Goshen College graduates: Clara Elizabeth Woodworth '17, Sunday Mahaja '14 and David Pauls '16, all former students of Mishler.
"Each of the artists has their own individual styles coming out in all of those pieces," Mishler said. "The sculptures by the students don't just look like class projects. They look like finished products of art."
Mishler is excited for his students to have this opportunity.
"The whole idea of the students getting their work out there and it being seen is very important," Mishler said. "When the community is showing interest in what we're doing, that's great."
For Mishler, it's nice to see art in such a natural setting and it's worth checking out, with the sculptures on display alongside the flowers, trees and water.
"I think people should be proud of what the students are doing here at Goshen College in sculptures," Mishler said. "I just want more people to see what's happening, and hopefully this will open up other opportunities for myself and students."
– By Jordan Waidelich