Q&A with Dr. Ken Newbold, Interim President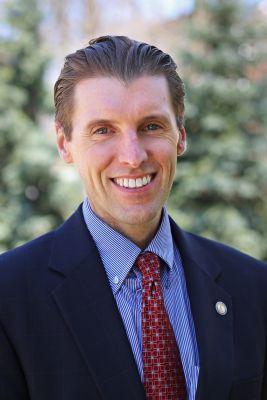 Goshen College Provost Dr. Kenneth Newbold took over as interim president at Goshen College on July 1, and will serve through October 2017.
As provost, Dr. Newbold ran the day-to-day operations of the college, serving as chief operating officer, and provides oversight for athletics, academic affairs, student life, finance, enrollment management and marketing, as well as long-range planning.
Dr. Newbold graduated from Bridgewater (Virginia) College in 1999 with a bachelor's degree in history and political science. He completed a master of public administration degree with a concentration in higher education at James Madison University (JMU) in Harrisonburg, Virginia, in 2001, and earned a Ph.D. in strategic leadership in 2014. His dissertation, "Influence of Entrepreneurship Education on Entrepreneurship Development in Post-secondary Education," focused on the impact that education has on developing entrepreneurs.
Prior to his current position, Dr. Newbold held the role of associate vice provost for research and scholarship at JMU where he served as director of the institute for energy and environmental research and director for the institute for infrastructure and information assurance. His research interests include critical infrastructure protection, homeland security policy, intelligence analysis and higher education.
Before that, he was director of research and innovation (2011-2014), where he was responsible for building collaborative interdisciplinary teams to pursue a variety of externally sponsored opportunities and facilitating research and development opportunities for faculty, staff and student researchers. He co-authored "Homeland Security: Policy, Perspectives, and Paradoxes," (Palgrave Macmillan, May 2007). He has also held positions at Bridgewater College in student affairs and as assistant football coach.
You've been provost at GC for two years now. What about Goshen College keeps you coming back each day?
"Transitioning into the role of provost has been a rewarding career experience over the past two years. It is the real sense of belonging and community that inspires me to come to the office each and every day. Goshen College is truly a special place that has an important and unique position in higher education. I am deeply honored to work alongside an amazing team of leaders on the President's Council and to collaborate with an outstanding faculty with a focus on continuing to pursue our shared vision for the institution. Our team of administrators and staff demonstrate their passion for the college in all that they do. Having the chance to get to know students is a rewarding part of the job and an important element of the campus community. I've learned so much from everyone on campus that I am inspired to walk alongside and lead the institution as we experience successes and challenges along our journey. Being part of campus community that deeply values diverse experiences and perspectives makes GC a rich and rewarding institution and one I am proud to help lead."
What priorities do you plan to focus on in the coming four months?
"The coming months offer excitement as we prepare for the return of students and open the new academic year in August. The start of school is one of my favorite times of year as it brings energy and optimism for the year ahead and the opportunity to welcome a new group of students into the Maple Leaf family. During this time, I will focus on sustaining the impressive work underway towards enhancing diversity and inclusion in all aspects of the college. I will also continue to work with my colleagues on the President's Council on our efforts to balance the budget through an open and transparent process to meet the goals set forth in Culture for Service 2.0. Although difficult decisions are necessary in the coming months, we will do so with care for the individuals involved and with a focus on compassion and clear communication."
What do you look forward to most as interim president?
"Serving as interim president is truly an honor and I most look forward to the chance to engage externally with alumni, community and friends of the college while furthering relationships on campus. It is exciting to have the chance to develop new relationships with partner organizations and to lead the institution in a new capacity during this period of transition. I am stimulated by the opportunity to expand my leadership as the college continues to experience growth in enrollment, create new connections in our community, serve the church and seek innovative approaches to address the challenges facing small colleges across the country. Finally, I look forward to connecting with students in new ways to help foster open lines of communication in addressing important issues on campus."
How do you plan to set the stage for and work with incoming president Dr. Rebecca Stoltzfus?
"I see the most important role for me during this transition is to prepare things for President Stoltzfus. This will begin immediately as I will be traveling to Orlando to participate in the Mennonite Church USA Convention where I will have the opportunity to speak with alumni, prospective students and leaders from across the denomination about the strategic direction of the college. I will be working with the advancement team in visiting constituents and communicating with friends of the college and sharing the excitement for her arrival in November. Developing a balanced budget for the the 2018-19 year is an important process to have completed prior to when President Stoltzfus arrives this fall. We will also begin planning for the inauguration and other welcoming events very soon. President Stoltzfus and I have been in touch via email since her visit and have begun sharing ideas about the future."
What do you see as Goshen College's greatest strengths?
"In addition to the people that I mentioned earlier, I feel the biggest strength is the impactful experience GC offers students. We offer a challenging yet supportive academic environment that provides students with opportunities to expand their horizons, develop a commitment for lifelong learning and gain the knowledge they need for wherever their lives take them in a curriculum rooted in the liberal arts. Coupled with the academic program, the co-curricular programs allow our students to excel on the stage, field and in the concert hall. The efforts made to make GC a more diverse and inclusive campus have been successful in creating an environment that is open and supportive to a greater number of students and employees. We must remain committed to this important work and build upon this strength to continue our commitment being a safe community for all. Finally, our ability to build strong partnerships with community organizations positions GC well to serve our region and address critical issues facing our neighbors."
How have you and your family adjusted to living in Goshen?
"Goshen has been a wonderful fit for our family. We were warmly embraced when we arrived and our new community quickly became home. Tiffany has found a rewarding position at United Cancer Services of Elkhart County where she serves as a caseworker. Cameron will start 7th grade at Bethany Christian and Corynne is entering 3rd grade at Parkside in the fall. Both are very active in sports which keeps us busy as parents. We are all big fans of all the Maple Leaf teams and enjoy supporting our student-athletes whenever we have the chance. Eight Street Mennonite Church has provided a welcoming, supporting and spiritually renewing church community with great programs for faith development for our family. The City of Goshen offers us the chance to get outdoors and bike, participate in one of our favorite events each month at First Fridays and we are blessed with wonderful neighbors. It seems like we have been in Goshen for more than two years as through the relationships we've formed it feels like Goshen has been a part of our lives for much longer."