Geraldine Chan: Passing along charitable acts
By Grace Weaver '16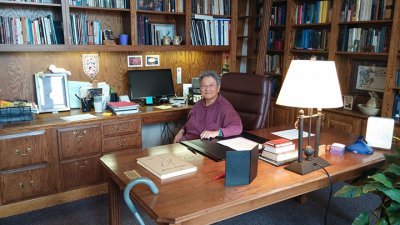 Dr. Geraldine Chan '64 is the kind of person who will decide to take her whole graduating class out for dinner, set up a scholarship or donate custom handmade furniture to her alma mater when the thought strikes — and she attributes that generosity to kindness she received as a student at Goshen College.
"I was glad, and I am still glad, that I was given the opportunity to show my gratitude through different projects," she said.
Chan grew up in Hong Kong, where she met Rev. Paul Bartel, a longtime missionary who recommended Goshen College. She moved to the United States in 1960 and started school at Azusa College in California, but quickly discovered that several of the classes she needed for dentistry school weren't available, so she transferred to GC a year later. After graduating with a biology degree in 1964, she pursued dentistry at Indiana University and later became a successful dentist in New York City's Chinatown.
Chan met several figures in Goshen who would have a lasting impact on her life — Viola Good '39, international student advisor, and Robert and Donna Klein, Goshen residents who were especially invested in the college's international students.
It was the sort of generosity modeled by these people that inspired Chan to give back to the community that had provided for her. "I became a better person by studying at Goshen," she said in an interview with Heritage in 1984. "I benefited from someone else's generosity, and I know of no better way to say thank you to Goshen College, Miss Good and the Kleins than by setting up a scholarship for international students."
The scholarship, which is still active today, gives preference to students with birth origins in Hong Kong, Taiwan, China or other Asian countries, but is available to any international students if no students meet those criteria.
While on campus for a visit in October, 1989, she had a conversation with President Emeritus Victor Stoltzfus that resulted in Chan's donation of a locally-designed and hand crafted wooden desk and credenza for the president's office.
In a letter on April 24, 1990, Stoltzfus wrote to Chan, "Gerry, I want to thank you again for this splendid addition to my office. The remodeled doors, walls and window treatments combined with the new furniture make this the most beautiful office I have ever had the opportunity to use. I am so pleased that all of the aspects of carpet, walls and furnishings support each other in giving a feeling of warmth and hospitality."
In 2014, 24 years later, Chan continued her tradition of giving. A friend had explained to her that wooden furniture needs to be refinished after time, and so she took his advice. "What do I know about wood? I'm from Hong Kong," she joked. Chan offered to have the president's furniture refinished and dedicated to her graduating class in honor of their 50th class reunion.
"Without Goshen College, where would I have been?" she said. "No degree, no dental school, nothing. Now that I can afford it, why do I not share it?"