'Nuestras Memorias' chronicles growing up Mennonite in Puerto Rico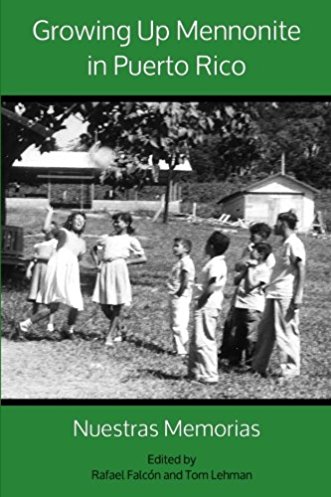 A new book chronicling the experiences of Mennonites growing up in Puerto Rico in the mid-20th century was released in May, edited by Rafael Falcón, Professor Emeritus of Spanish at Goshen College, and Tom Lehman, a 1969 Goshen College graduate.
"Growing Up Mennonite in Puerto Rico: Nuestras Memorias," (CreateSpace Independent Publishing Platform, May 2017) is a collection of stories from writers who share their experiences of growing up on the Island from the 1940s into the 1970s, a time when the Mennonite community was evolving, and the North American workers and missionaries were a strong presence.
Childhood memories in the book draw from a variety of backgrounds: Puerto Rican, North American, cross-cultural, missionary, new-to-the church, among others. The contributors write in the language of their choice, in Spanish or English, with the majority writing in English.
Readers of these stories walk into a Mennonite church service for the first time, and also experience a missionary family furlough. Hurricanes and parasites are a part of this life, as well as "the truck bus" and youth camps, Island romances and denied proms, tumbles into drums and silos, a no-brake white-knuckle ride down the mountain and much more. A photo gallery follows the stories with pictures of the writers as children or youth in the years they describe.
"I knew my own story of growing up on this Caribbean island, supported and surrounded by the culture of menonitismo puertorriqueño, and I wanted to hear the stories and reflections of others who experienced a similar reality." Falcón wrote in the book's preface.
"Growing Up Mennonite in Puerto Rico: Nuestras Memories" is available at Amazon.com. As part of the Colección Menohispana series, profits from the sales of the book and other titles of the series are donated to the Academia Menonita Betania, a denominational school begun in 1947 by Mennonite workers to Puerto Rico.
In addition to Falcón and Lehman, contributors to the book include Weldon Troyer (1953 GC graduate), Barbara Amstutz Hodel (1958 GC graduate), Ted Springer (1972 GC graduate), Bryan Falcón (1995 GC graduate), Christine Yoder Falcón (1971 GC graduate), Sherilyn Hershey Layne, Josian Rosario, Juan A. Rolón, Carolyn Holderread Heggen, Ruth Kaufman Strube, Rolando Santiago, José E. Jiménez Burgos, Nilsa Pagán Rosado, and Galen Greaser.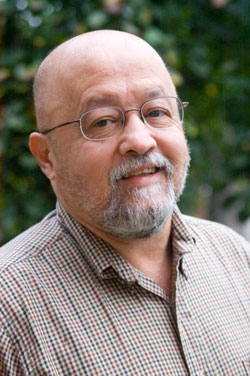 Falcón was born in Aibonito, Puerto Rico, and attended Academia Menonita Betania. Falcón received his bachelor's degree from the Interamerican University of Puerto Rico, and finished one year of graduate studies at the Universidad de Puerto Rico. He completed his master's and doctoral degrees in Spanish American Literature at the University of Iowa. Falcón taught Spanish at Goshen College from 1979 to 2011.
He has published books and articles on a variety of themes, including Puerto Rican immigration to the United States, Afro-Hispanic influence in literature, Hispanic culture and Hispanic Mennonite history. In 1985 Herald Press published his "La Iglesia Menonita Hispana en Norte América: 1932-1982," as well as its translated version. "Salsa: A Taste of Hispanic Culture" came out in 1998, and in 2008 a collection of short stories, "Mi Gente: In Search of the Hispanic Soul." In 2014, he co-edited "Mennonite Memories of Puerto Rico" (CreateSpace Independent Publishing Platform, Oct. 2014) with Tom Lehman, detailing the experience of Mennonites in Puerto Rico. In addition, he has edited numerous textbooks for the teaching of Spanish as a second language
Tom Lehman was born in eastern Ohio, the son of teachers who served in mission work for the Mennonite Church in Ethiopia and Puerto Rico. He graduated from Goshen College in 1969 and obtained a master's degree in library science from Indiana University. Since retiring from the University of Notre Dame Hesburgh Library after 26 years, he has been digitizing missionary photos taken outside the United States in the mid-20th century. Photos from this collection have been the subject of two books and have appeared in numerous books, magazine articles and TV shows. They can be seen at www.flickr.com/photos/tlehman/. In 2013 he published Justus Holsinger's previously unpublished 1970 manuscript, "Puerto Rico: Island of Progress."