Perez, Aguirre given 2017 Liberty Bell Award from Elkhart City Bar Association
Two Goshen College administrators, Gilberto Perez, Jr., and Richard R. Aguirre, received the Elkhart City Bar Association's 2017 Liberty Bell Award for their leadership and numerous outreach activities to provide resources, education and support within the local immigrant, Latino and wider communities.
"The Elkhart City Bar Association recognizes the contributions that Gilberto and Richard have made, through their various community activities, in connecting members of the immigrant community with resources to address their legal concerns," said Michael J. Roose, an associate attorney at Sanders-Pianowski, LLP in Elkhart. "Additionally, Gilberto and Richard have coordinated presentations involving local police with the goal of enhancing trust between law enforcement officials and the Latino community and to increase reports of witnessed crimes."
The Liberty Bell Award is presented annually by the Elkhart City Bar Association to a non-lawyer member of the community. The award is given to individuals who have made a valuable contribution to the community and, more specifically, individuals whose outreach provides a benefit to the Elkhart legal system.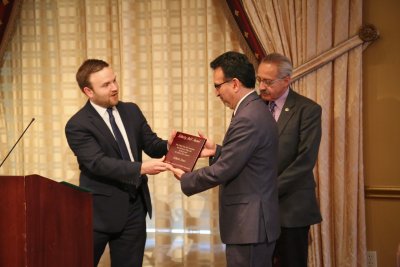 Originally from South Texas, Gilberto Perez, Jr., is senior director of intercultural development and educational partnerships at Goshen College and previously served as associate professor of social work at GC. Prior to coming to Goshen College, Perez, Jr., served for 11 years as a mental health administrator and therapist in Noble and LaGrange Counties. He is the founder and author of a nationally-recognized mental health curriculum for Latino immigrants that has been implemented in 13 cities across Indiana and in 14 states. Perez, Jr., is a 1994 graduate of Eastern Mennonite University (EMU), and earned a graduate certificate in peacebuilding from EMU's Center for Justice and Peacebuilding in 1999. He received a master's degree in social work from Inter-American University of Puerto Rico-Metropolitan Campus in 2001.
"So many times when I'm working with immigrants in our community and others, I remember those people that helped me," Perez, Jr., said. "As we're working with immigrants here in Elkhart County and other parts of the state… we're working hard at developing a right memory, right visioning and also a right hope."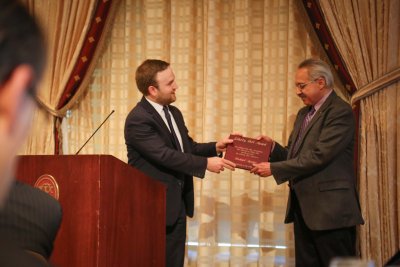 Richard R. Aguirre is director of corporate and foundation relations at Goshen College, where he previously served as the director of communications and marketing. Before joining GC, he worked as a reporter and editor in California, Texas and Oregon. He founded and continues to coordinate Elkhart County HOPE (Helping Our People Everywhere), a network of business, churches, educators and nonprofit organizations committed to helping immigrants and refugees. Now affiliated with Center for Healing and Hope, the network has more than 330 members and has provided funds for legal and school expenses, sponsored "know your rights" sessions, and is leading the campaign for a Goshen identification card. He studied journalism, with an emphasis in public relations, from California State University, Fresno.
"I'm happy to have received this unexpected and prestigious award from the Elkhart City Bar Association," Aguirre said. "It's a great honor, and I was proud to accept the Liberty Bell Award on behalf of the thousands of immigrants and Latinos who enrich Elkhart County daily through their work, the vitality of their culture and their striving for the American Dream."
"I founded and continue to coordinate the Elkhart County HOPE (Helping Our People Everywhere) Network) because I believe undocumented immigrants should be treated with dignity and their civil rights respected," Aguirre added. "This isn't a political matter for me; it's much more important, because for some people, remaining in the United States can be a matter of life or death. I also believe how we treat our immigrant brothers and sisters will go a long way toward determining if we will continue to be a nation that embraces such time-tested values as equality, fairness, justice, compassion and mercy."
Both Aguirre and Perez, Jr., are part of an Intercultural Team at Goshen College working collaboratively with local and statewide agencies, governments, nonprofits and churches on a number of intercultural matters.
"No one deserves more recognition for their tireless labor in assisting immigrant families become vital members of our community than Gilberto and Richard," said Goshen College President Jim Brenneman. "Thank you to the Elkhart City Bar Association for this great honor underscoring our common vision that education is key to vibrant inclusion and economic vitality of our region."
The awards were presented during a luncheon on May 18, 2017, at the Crystal Ballroom at the Lerner Theatre in downtown Elkhart. The guest speaker this year was Brent Dickson, retired Chief Justice of the Indiana Supreme Court.
In addition to furthering the practice of law and promoting justice, the Elkhart City Bar Association supports the community with scholarships and legal aid. The group's scholarship foundation annually presents $250 to $1,000 scholarships to college bound high school students based upon need and academic performance.