Performing Arts Series to feature Argentinian dance company Che Malambo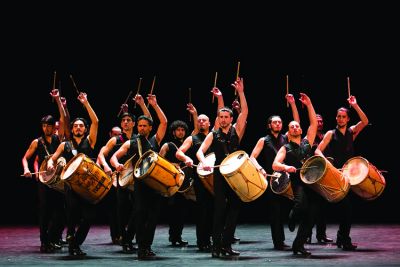 Concert: Che Malambo
Date: Tuesday, May 2, 2017
Time: 7:30 p.m.
Location: Goshen College Music Center's Sauder Concert Hall
Cost: $45, $40 or $28 | Buy online
---
Che Malambo, an all-male Argentinian dance company, will perform at Goshen College Music Center's Sauder Concert Hall on May 2 at 7:30 p.m. as the final performance of the Performing Arts Series.
Che Malambo excites audiences with their percussive dance and music spectacle. Malambo, a dynamic blend of precision footwork, rhythmic stomping, drumming and song, is at the heart of the gaucho (South American cowboy) tradition and is now thrilling audiences around the world with this new production created by renowned choreographer Gilles Brinas.   
Danced solely by men, the Malambo began in the 17th century as competitive duels that would challenge skills of agility, strength and dexterity. Zapateo, their fast-paced footwork, is inspired by the rhythm of galloping horses in their native Argentina.
Described by the New York Times as "a thrilling display of malambo," Che Malambo brings fiery Malambo traditions and virtuosic dancing to the contemporary stage for an exhilarating and entertaining show that is perfect for the entire family.
At the conclusion of this performance, Goshen College will announce the upcoming 2017-18 Performing Arts Series line-up, with season ticket packages available to purchase immediately following.
Tickets are $45, $40 or $28 and can be purchased through the Goshen College Welcome Center (574-535-7566, welcomecenter@goshen.edu) or online at www.goshen.edu/tickets.