All-woman Norwegian brass band tenThing to perform on March 31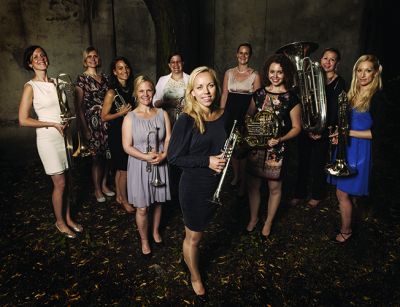 Concert: tenThing
Date: Friday, March 31, 2017
Time: 7:30 p.m.
Location: Goshen College Music Center's Sauder Concert Hall
Cost: $40, $35 or $25
---
The 10-member, all-female Norwegian brass band tenThing will perform at Goshen College Music Center's Sauder Concert Hall on March 31 at 7:30 p.m. as part of the Performing Arts Series.
Formed in 2007 by Norwegian trumpeter Tine Thing Helseth, tenThing are rapidly establishing themselves on the international scene. The ensemble works closely with Norwegian guitarist and arranger Jarle Storløkken, who arranges many of their scores and enables them to play the music they enjoy, regardless of the original instrumentation.
Since first forming, the group have performed all over their native Norway, and delighted a huge audience by opening the 2011 Norwegian Grammy Awards. Elsewhere in Europe, they have performed at the Rheingau and Bad Kissingen festivals in Germany, the Chester Festival in the UK, La Foce in Tuscany and at the NCPA Beijing May Festival.
tenThing's acclaimed and eclectic debut disc features arrangements of works by Weill, Bizet, Grieg, Piazzolla, Albeniz and Mozart, as well as original compositions by the Dutch composer Jan Koetsier.
Tickets are $40, $35 or $25 and can be purchased through the Goshen College Welcome Center (574-535-7566, welcomecenter@goshen.edu) or online.
Future concerts in the Performing Arts Series include:
May 2, 2017, 7:30 p.m. – Che Malambo