Former business professor Randy Gunden remembered as gifted teacher and loyal friend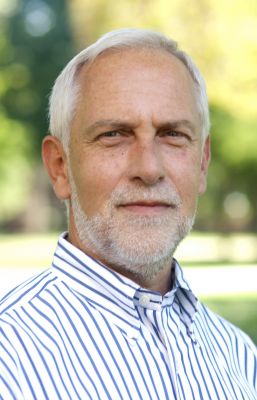 Randy Gunden, a former business professor and administrator at Goshen College, died Feb. 25 after a 10-month battle with pancreatic cancer. He was 64 years old and graduated from Goshen College in 1975 with a degree in economics.
Gunden was born May 16, 1952 in Pigeon, Michigan, to Glen and Pauline Gunden. After college, he taught economics and business in Swaziland and Lesotho through Mennonite Central Committee for three years.
After returning to the United States, he met his wife, Debby Lederach, whom he married Dec. 27, 1980. He spent a year studying economics at the University of Michigan and thencontinued his graduate work at the University of Notre Dame, where he earned his master's degree in 1980.
In 1982, the Gunden family moved to Newton, Kansas, where he was an assistant professor for the department of business and economics at Bethel College. In 1984, they returned to Goshen and he became assistant professor of economics and business at Goshen College while completing his doctoral degree at Notre Dame. While at Goshen College, the Gunden family spent a year in Guadeloupe, French West Indies, as Study-Service Term leaders.
In 2004, Gunden became vice president of the college of professional studies at the Indiana Institute of Technology in Fort Wayne, Indiana. He then held both teaching and administrative positions at Bethel (Indiana) College from 2008-2011. He returned to Goshen College in 2011 as the executive director of adult and online programs. He worked at the Labelle Campus of Florida Southwestern State College until he resigned in April 2016, after his diagnosis of pancreatic cancer.
Gunden is survived by his wife, Debby; his son, Matthew, and daughter-in-law, Laura, of Chicago, Illinois; son Jacob of Seattle, Washington; mother, Pauline; and three brothers, Doug, Burdette and Tony. He is preceded in death by his father Glen.
A memorial service took place in Fort Myers, Florida, on March 5. A second memorial will take place March 26 at College Mennonite Church, at 3 p.m. in the sanctuary. Visitation will be from 1 to 2:30 p.m. There will be a meal and sharing at the south end of the fellowship hall.
In lieu of flowers, memorial contributions may be made to Mennonite Central Committee, 21 S 12th St., Akron, PA 17501, call toll-free 1-888-563-4676 or contribute online at donate@mcc.org.