'Little orchestra' Pink Martini returns to Goshen College on March 10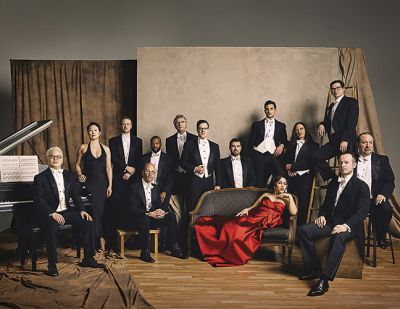 Concert: Pink Martini
Date & Time: Friday, March 10, 7:30 p.m.
Location: Goshen College Music Center's Sauder Concert Hall
Cost: $60, $55 or $42
---
Back in Goshen by popular demand, Pink Martini will perform in Goshen College Music Center's Sauder Concert Hall on March 10 at 7:30 p.m.
This sizzling ensemble returns with their upbeat multilingual repertoire of classical, Latin, big band, samba, pop and jazz music. Led by pianist Thomas Lauderdale, Pink Martini has gained a national following and has performed with more than 50 orchestras.
---
See Pink Martini's message to the Goshen audience
---
Lauderdale founded what he calls the "little orchestra" Pink Martini in 1994 to provide more beautiful and inclusive musical soundtracks for political fundraisers for causes such as civil rights, affordable housing, the environment, libraries, public broadcasting, education and parks.
"Pink Martini is a rollicking around-the-world musical adventure," said Lauderdale. "If the United Nations had a house band in 1962, hopefully we'd be that band."
The band has released nine albums in many different styles, including a multi-denominational holiday album called "Joy to the World" and an album of collaborations with legendary Japanese singer Saori Yuki called "1969." Their ninth studio album, titled "Je dis oui!" was released in November 2016 to much acclaim.
Join these amazing talents for a not-to-be-missed evening of a musical travelogue from a samba parade in Rio de Janeiro to a quaint piazza in Naples, Italy.
Tickets are $60, $55 or $42 and can be purchased through the Goshen College Welcome Center (574-535-7566, welcomecenter@goshen.edu) or online at www.goshen.edu/tickets.
Future concerts in the Performing Arts Series include:
March 31, 2017, 7:30 p.m. – tenThing

May 2, 2017, 7:30 p.m. – Che Malambo