Rieth Chamber Series: Organist Aaron Sunstein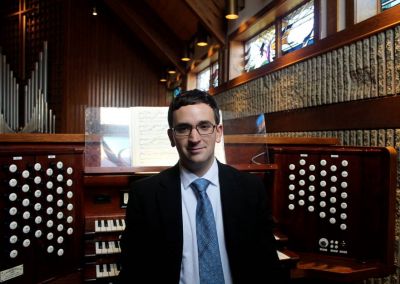 Concert: Rieth Chamber Series: Aaron Sunstein, organ
Date and Time: Sunday, Feb. 26, 2017, 4 p.m.
Location: Goshen College Music Center's Rieth Recital Hall
Tickets: $10
---
Organist and music theorist Aaron Sunstein will present a Rieth Chamber Series concert on Sunday, Feb. 26 at 4 p.m. in Goshen College Music Center's Rieth Recital Hall.
Sunstein performs at home and abroad with a diverse range of research and performance interests. In November of 2015, he premiered Gunther Schuller's "Symphony for Solo Organ" at the Church of the Advent in Boston.
He performs regularly both in the United States and Sweden and has been a prize winner in several national organ competitions.
Sunstein currently serves as Minister of Music at First Lutheran church in Carlisle, Pennsylvania, where he directs four choirs and plays an Aeolian-Skinner organ. He is a candidate for the doctor of music in organ degree at Indiana University Jacobs School of Music.
Sunstein's wide-ranging solo repertoire includes landmark pre-Bach compositions, Romantic and post-Romantic works regarded as among the most difficult written for the organ and works by a number of leading contemporary composers.