Ladysmith Black Mambazo returns to Goshen College Feb. 10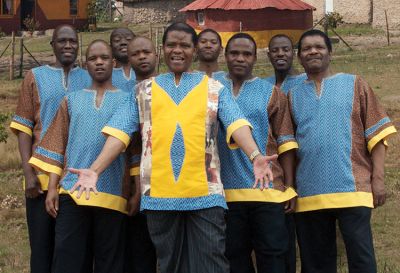 Concert: Ladysmith Black Mambazo
Date: Friday, Feb. 10, 2017
Time: 7:30 p.m.
Location: Goshen College Music Center's Sauder Concert Hall
Cost: $40, $35 or $25
---
Returning to the Goshen College Music Center's Sauder Concert Hall for the first time since 2003, Ladysmith Black Mambazo will perform on Feb. 10 at 7:30 p.m. as part of the Performing Arts Series.  
Almost 30 years after they acquired international superstar status with Paul Simon's Graceland album and after four Grammy Awards, Ladysmith Black Mambazo continues to tour the world as South Africa's cultural ambassadors.
With the power of gospel and the precision of Broadway, Ladysmith Black Mambazo are the undisputed kings of mbube, South African a cappella singing.
Assembled in the early 1960s in South Africa by Joseph, then a young farmboy turned factory worker, the group took the name Ladysmith Black Mambazo – Ladysmith for Joseph's hometown; Black for the oxen, the strongest of farm animals; and Mambazo for chopping axe, a symbol of the group's ability to "chop down" any singing rival who might challenge them.
In addition to their work with Paul Simon, Ladysmith Black Mambazo have recorded with numerous artists from around the world, including Stevie Wonder, Dolly Parton, Sarah McLachlan, Josh Groban, Emmylou Harris, Melissa Etheridge and many others.
The group continues to thrill audiences around the world with its strong, proud melodies harmonized in layers of call and response and its joyously energetic performances.
Tickets are $40, $35 or $25 and can be purchased through the Goshen College Welcome Center (574-535-7566, welcomecenter@goshen.edu) or online at www.goshen.edu/tickets.
Future concerts in the Performing Arts Series include:
Feb. 28, 2017, 7:30 p.m. – The National Symphony Orchestra of Ukraine

March 10, 2017, 7:30 p.m. – Pink Martini

March 31, 2017, 7:30 p.m. – tenThing

May 2, 2017, 7:30 p.m. – Che Malambo