Goshen College names 227 students to fall 2016 Dean's List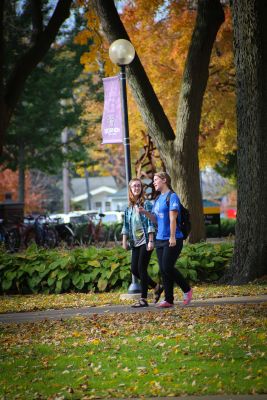 Goshen College recently recognized 227 students for excellence in academics on the fall 2016-17 semester Dean's List.
The Dean's List includes undergraduate students earning at least a 3.75 GPA, while completing at least 12 hours of course work for a letter grade. Only grades from the designated semester are included in the Dean's List selection process.
Students earning at least a 3.6 GPA (on a 4.0 scale) in Goshen College's degree completion programs are also included in the list – a significant achievement for working adults taking highly personalized night classes.
Initiated in the fall of 1999, the Dean's List celebrates the achievement of Goshen College students who have met high academic standards.
---
Traditional Undergraduate:
Seniors


Christian Bechler
Ashley Bontrager
David Bontrager
Brianne Brenneman
Brenner Burkholder
Eric Cender
Jadon Chupp
Ellen Conrad
Kate Crawford
Anna Cullar
Alexander Delgadillo
Madeline Delp
Mitchell Denlinger
Crystopher Echavarria
Megan Eigsti
Courtney Featherstone
Isaiah Friesen
Joel Gerig
Aaron Graber

Kayla Gray
Naomi Gross
Julian Harnish
John Hershberger
Ali Iavagnilio
David Jantz
Deborah Kankolongo Tshidimu
Vincent Kurtz
Cecilia Lapp Stoltzfus
David Leaman-Miller
Jaeyoon Lee
ByeongChan Lim
Philip Longenecker
Hayley Mann
Natalie Mark
Kathryn McKinnell
Amber Mosley
Aryana Nacker
Eliana Neufeld Basinger

Do Won Park
Andrew Pauls
Rebekah Schrag
Katie Shank
Anna Shetler
Morgan Short
Maxwell Stauffer
Eli Studebaker
Hannah Thill
Janeth Vela
Margaret Weaver
Lauren Wenger
Courtney Wengerd
Peter Wise
Jacob Zehr
Molly Zook
Lien Nguyen
Betrice Tinawati 
---
Juniors

Spencer Aeschliman
Daniel Aramouni
Clara Beck
Kenan Bitikofer
Marie Bontrager
Joshua Bustos
Alexis Carpenter
Gabriella Castanon
Joshua Das
Nathanael Dick
Sadie Drescher
Gabriel Eisenbeis
Emily Evans
Hannah Friesen
Meghan Gerke
Isaac Godshalk
Christian Grider
Lydia Hartman-Keiser

Sarah Hartman-Keiser
Hanna Hochstetler
Laura Hochstetler
Katherine Hurst
Catherine Kauffman
Madeline Keener
Anja Kenagy
Mark Kreider
Caleb Liechty
Timothy Litwiller
Isaac Longenecker
Jenae Longenecker
Desiderio Lopez
Brooke Maes
Shailyn Mathews
Erika Miller
Monica Miller

Suetta Miller
Riley Mills
Mary O'Connell
Caitlyn O'Neal
Karina Palos
Chelsea Risser
Emilie Schaeffer
Christine Sessa
Valeriya Skorobogatko
Jill Steinmetz
Christina Swartzendruber
Austin Weaver
Simon Weaver
Aritha Weerasinghe
Breanna Weisser
Benjamin Wiebe
Taylor Zehr
---
Sophomores

Ana Andriano
Erin Bontrager
Tyler Born
Anne Buckwalter
Alia Byrd
Morgan Catron
Joseph Clemens
Annika Detweiler
Stephanie Dilbone
Megan Ewing
Roxanne Gehring
Irina Gladun
Abigail Graber
Jordan Haarer

Chandler Ingle
Hajin Kim
Joshua Liechty
Skye McKinnell
Mariana Messick
Cassidy Miller
Geoffrey Miller
Rae Ann Miller
Rowan Miller
Rudin Mucaj
Kyle Ramirez Ingold
Brooklyn Ries
Meredith Satchwell

Cassandra Sessa
Joseph Stoltzfus
Erin Strock
MacKinnon Tracy
Tyrus Tucker
Bridgette Webb
Landon Weldy
Joseph Wheeler
Min Kyoung Woo
Alexandra Yoder
Jonah Yoder
Trent Yoder
Trever Yoder 
---
Freshmen

Ameera Alshuga
Jesse Amstutz
Evan Beck
Paige Becker
Ari Benjamin
Megan Boemmel
Taliah Borom
Tanner Camp
Katie Celis
Jose Chiquito Galvan
Magdalena Dutchersmith
Lydia Dyck
Siana Emery
Chelsea Foster
Benjamin Fox
Joshua Garcia
Christian Gehman
Luke Geiser

Martin Gerig
Megan Graber
Natalie Graber
Ryan Haggerty
Diana Hankins
Elinor Keener
Yejin Kim
Abigail King
Rachaelann Klink
John Lapp
Amanda Leatherman
Jace Longenecker
Elijah Lora
Brandy Lowe
Sarah Martin
Lindsay McQuinn
Gabriel Miller
Ryan Miller

Marris Opsahl
Thalia Osorio
Luke Rush
Matthew Smucker
Olivia Smucker
Hannah Snyder
Kyle Snyder
Calista Starr
Anna Steiner
Jenae Stutzman
Mariah Tolbert
Carolina Villalobos Palacios
Seth Weaver
Annelise Wiebe
Kelsey Winters
Megan Wynn
Bryce Yoder
Makena Zimmerman
---
Adult undergraduate programs:

Julie Blimling
Rebecca Riddle
Jessica Rinehart
Jessica Snyder
Rachel Ganter
Mellissa Hite
Leslie Lindenberg
Martha Nganga
Dina Patti

Stacy Robinia
Martha Strain
Catherine Wesson
Barbara Whitlock
Michelle Wright
Rebecca Yeske
Andrew Broker
William Greene

Bernard Onyango
Sally Ponce
Jennifer Van Vooren
Randy Bryant
Vallie Havens
Breanne Rigby
Jamie Whelan
Jennifer Wilder