Two student computing teams place at regional competition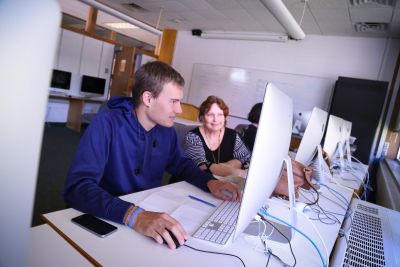 This fall, Goshen College fielded two teams to the Association of Computing Machinery and IBM sponsored East Central North America Regional Programming Contest at Grand Valley State University in Allendale, Michigan, Oct. 28-29.  
Of 120 teams, GC's team, Code Purple Gold, took 5th place on-site and 27th overall. GC's other team, Code Purple Itanium, took 22nd on-site and 100th in the region.
This is the second year that Goshen College teams have participated in the contest. Team Code Purple Gold included Christian Bechler, a senior mathematics and history double-major from Hudsonville, Michigan; Kenon Bitikofer, a junior computer science and music double-major from Saint George, Kansas; and Reed Yoder, a first-year computer science and physics double-major from Apple Creek, Ohio. Team Code Purple Itanium included Christian Gehman, a first-year computer science major from Harrisonburg, Virginia; Vince Kurtz, a senior physics major from Rochester, New York; and Christian Stoltzfus, a sophomore computer science major from Harrisonburg, Virginia.  
According to their website, ACM "brings together computing educators, researchers, and professionals to inspire dialogue, share resources and address the field's challenges. As the world's largest computing society, ACM strengthens the profession's collective voice through strong leadership, promotion of the highest standards, and recognition of technical excellence. ACM supports the professional growth of its members by providing opportunities for lifelong learning, career development, and professional networking."
— By Maddie Birky