James Hertzler, professor emeritus of history at Goshen College, passes away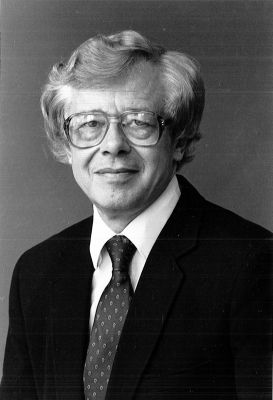 Goshen College Professor Emeritus of History James (Jim) R. Hertzler, 82, died Nov. 18 at his Goshen home after an extended illness. He taught at Goshen College for 33 years, from 1966 until retiring in 1999.
A 1961 Goshen College graduate, Hertzler completed master's and doctoral degrees in history from the University of Wisconsin in 1966. A scholar of British history, he was especially interested in architecture and sermons by 18th-century clergymen. He later on developed a passion for the history of Africa. He was especially drawn to the story of South Africa and followed the drama that eventually led to the end of Apartheid there with great interest. He pioneered a course called First/Third World History that was built around the concept of globalization, a forward thinking course at the time.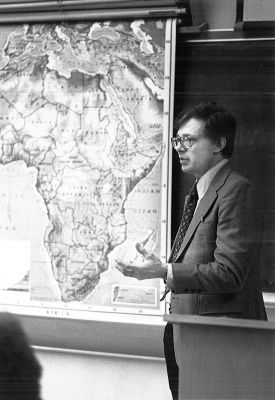 "Jim was the professor that persuaded me to become a history major and was a kind mentor throughout my years as a student at Goshen," said Jan Bender Shetler, professor of history. "His scholarship and teaching morphed from the history of the British Isles to the British Empire to a concern for the colonized and Africa in particular. He will be missed by all of us and was a dear colleague."
Professor of History John D. Roth, who was both a former student and colleague, added, "Jim was, above all, a gentleman — gracious, gentle and kind to colleagues and students alike. At a time when Goshen College was finding its way as a leader in international education, Jim was developing a curriculum in world history that brought greater depth and insight to the personal experiences of [our students studying abroad]. He was particularly a friend to international students, but he took a strong interest in encouraging all students to do their best and to find their vocations."
Hertzler was born Jan. 31, 1934, in College Park, Maryland, to Milford and Ada (Hostetter) Hertzler. In 1957, he married Alta Grace Martin, who died in 1982. He married Diane Schrock in 1984. He is survived by her, along with four children, Jennifer and Melanie, both of Goshen, Philip (Jessica Lapp) of Mount Pleasant, Michigan, and Randal (Lisa Clarke) of North Potomac, Maryland.; four grandchildren, Anna, Lucy, Nicholas and Isaac; and two sisters, Carolyn (William) Presley, of Chisholm, Minnesota, and Janice (David) Gerber of Harrisonburg, Virginia.
A visitation will be held on Friday, Nov. 25, from 4:30 to 7:30 p.m. at College Mennonite Church, where he was a member. A memorial service will be conducted at the church on Saturday, Nov. 26 at 11 a.m.
Memorial contributions may be given to Goshen College's Institute for the Study of Global Anabaptism, the Jubilee Fund at College Mennonite Church and the Goshen College International Student Aid Fund.
Online condolences may be shared at www.yoderculpfuneralhome.com.