Yoder Public Affairs conversation to center on storytelling and making culture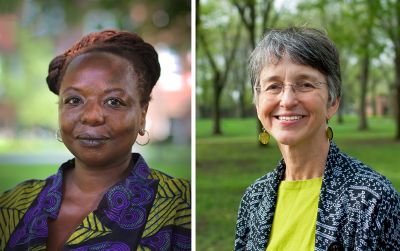 Yoder Public Affairs Lecture: Ellah Wakatama Allfrey and Jan Bender Shetler, "The Development of Sustainable Creative Economies: Telling Stories and Making Culture"
Date and time: Tuesday, Nov. 29, at 7:30 p.m.
Location: Goshen College Music Center's Rieth Recital Hall
Cost: Free and open to the public
---
Ellah Wakatama Allfrey, a leading London editor, critic and journalist, and Jan Bender Shetler, professor of history and a scholar on Tanzania, will share an interview-conversation titled "The Development of Sustainable Creative Economies: Telling Stories and Making Culture" on Tuesday, Nov. 29, at 7:30 p.m. in the Goshen College Music Center's Rieth Recital Hall.
The presentation is sponsored by the Yoder Public Affairs Lecture series and is free and open to the public.
Allfrey has suggested there are both economic and important cultural reasons to give writers opportunities to publish at home as well as abroad. As the domestic publishing industry expands, there are economic efficiencies that give writers more opportunities, readers more access to local talent, and writers, editors and publishers new career opportunities. At the same time, writers also have opportunities to tell their own stories in ways that fit their own cultural context in addition to their writing that might resonate more with international audiences.
In association with publishing initiatives across Africa, Allfrey has spearheaded training and skills development for editors, as well as holding writing and editing workshops in countries including Nigeria, Kenya, Uganda, Bangladesh and Sri Lanka.
Ellah Wakatama Allfrey is a visiting professor of English. She is a 1988 Goshen College graduate and later earned a master's degree in communication and information studies from Rutgers University. An internationally-known author, broadcaster, editor and literary critic, Allfrey grew up in Zimbabwe and now lives in England and has become renowned especially for her work in Anglophone African literature.
Allfrey is former deputy editor of Granta magazine and editor-at-large for Granta and Portobello Books. She has previously served as an editor for Jonathan Cape/Random House and Penguin Press. She currently sits on the selection panel for the Rockefeller Foundation's Bellagio Fellowship and as a judge for the 2016 Dublin International Literary Award. Allfrey has served as a judge for prestigious literary awards such as the Man Booker Prize, the David Cohen Prize, the Commonwealth Writers' Prize, and the Caine Prize for African Writing. In recognition of her significant contributions to the publishing industry, Allfrey was awarded the title of Officer of the Order of the British Empire (OBE) by Prince Charles in 2011, which is one of the highest cultural honors in England.
Jan Bender Shetler teaches world history, particularly focusing on Africa and the developing world, at Goshen College. Her research is on oral tradition, social identity and landscape memory in the western Serengeti, Tanzania. Before teaching she worked eleven years for Mennonite Central Committee doing community development in Ethiopia, the Congo and Tanzania.