Library Gallery exhibit to feature Amish landscape paintings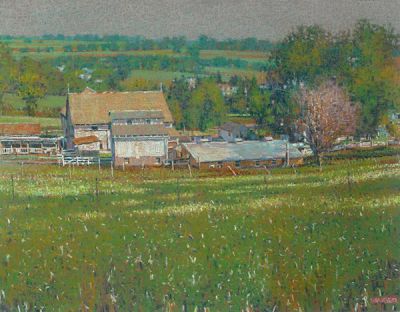 Event: "Amish Landscapes, Charm, Ohio: Paintings by Doug Unger"
Exhibit dates: Sept. 11 — Nov. 11, 2016
Reception date and time: Sunday, Sept. 11, 3-5 p.m.
Location: Library Gallery, Goshen College
Cost: Free and open to the public
Sponsors: The Mennonite-Amish Museum Committee and the Goshen College Art Department.
---
An exhibit featuring Doug Unger's paintings of Amish farmscapes in Holmes County, Ohio, will open in Goshen College's Library Gallery on September 11, with a reception from 3-5 p.m. in the gallery. 
The collection displays images of Charm, Ohio, a settlement of about 80 people in the Amish countryside south of Berlin in Holmes County, which is the second largest Old Order Amish community in North America. Inspired by its serene beauty, Unger spent recent decades painting the landscapes.
Unger is an environmentalist and professor emeritus in the School of Art at Kent State University. He also plays traditional music and creates banjos, mandolins and guitars, having been recognized with a National Endowment Fellowship and the Ohio Heritage Award.
His paintings are created with pastels on paper and oils on canvas, in a contemporary realism style.
In his artist's statement for the show, Unger wrote, "I have now been painting Charm landscapes for about thirty years. I continue to be drawn to the beauty of the landscape and the Amish farmers' ability to be stewards of the land."
All of the paintings in the exhibit are for sale. The show is free and open to the public and will be available until November 11.
This exhibit is co-sponsored by the Mennonite-Amish Museum Committee and the Art Department of Goshen College.