Goshen College Administrator Emeritus J.B. Shenk passes away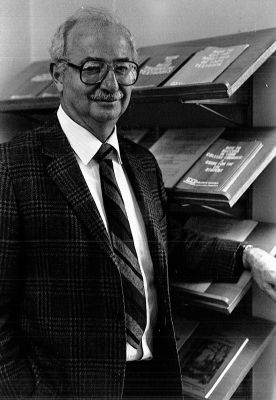 Goshen College Administrator Emeritus J.B. Shenk, who dedicated more than 35 years to various administrative leadership positions at the college from 1957-92, died on Thursday, July 21 at the age of 89.
Shenk was born February 26, 1927, in Nampa, Idaho. He received his associate degree from Hesston College before graduating from Goshen College in 1951 with a degree in Bible, and later a bachelor of theology degree.
Following graduation, Shenk did a year of voluntary service with Mennonite Central Committee (MCC) in Akron, Pennsylvania, where he met Beatrice (Betty) Frey. They married on August 16, 1952. Shenk served as pastor at Prairie View Mennonite Church in Elkhart, Indiana, from 1953-57 before relocating to Goshen. In 1957, Shenk was hired at GC as an admissions counselor, the only counselor in the admissions office at the time.
Shenk worked as director of admissions for more than 10 years and took on a number of other roles such as assistant to the president and acting director of college relations. By 1972, Shenk had stepped into the position of director of career services, a position he held for 13 years. While in that position, he was responsible for the development and operation of the Study and Work (SAW) program, which helped students find local work to pay for college expenses. Shenk was committed to providing a Goshen College education for students of diverse backgrounds.    
"He was passionate about the college and how the college was serving the church," said Hank Weaver, professor emeritus of chemistry and provost emeritus. Weaver and Shenk were colleagues and close friends during and after their 20 years together at Goshen College.
"J.B. was a creative person; he had a lot of good ideas. He was somebody who, if he had a responsibility, would carry it out with a lot of enthusiasm."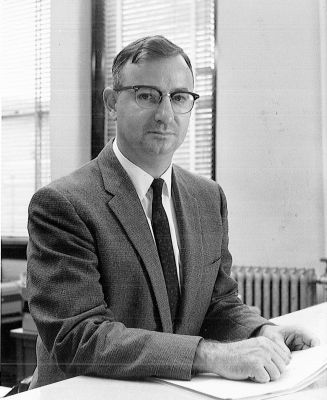 Shenk had the opportunity to travel during his time at GC through a year-long sabbatical to England. He and his wife led multiple Study-Service Term (SST) units to Haiti, Dominican Republic and China. Following his retirement, they spent significant time in India, China, and Northern Ireland volunteering with educational and peacemaking organizations.
While living in Goshen, Shenk attended College Mennonite Church and was an active participant in Seniors for Peace, a grassroots organization for seniors interested in furthering the cause of peace through personal and public efforts. In the years preceding his death, Shenk and his wife moved to Lancaster County to be closer to family.
J.B. is survived by his wife Betty, his three children; Ann Duval, Jeff Shenk, and Sara Shenk, grandchildren Tara, James and Kelly and great grandchildren Dejuanah and Ahlayna. He is also survived by his sisters Doris Hjelmsted, Laura Ann King and Ruth Amstutz.
A memorial service will be held on Saturday, July 30, 2016 at 4 p.m. at Akron Mennonite Church in Akron, Pennsylvania. In lieu of flowers, donations may be made in Shenk's name to either Mennonite Central Committee or ASSETS Lancaster.
Shenk's family will be available to receive friends of J.B. on Wednesday, August 3 from 3 to 6 p.m. in the College Mennonite Church Gathering Rooms.