A life of generosity: Former student and lifetime supporter leaves final large gift to the college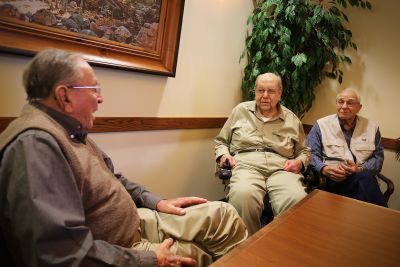 Milo Albrecht, a former Goshen College student, farmer and generous donor to the college, died Tuesday, April 19, 2016, at the age of 94.
Though he only attended Goshen College for three semesters in 1939-40, his charitable giving continues to provide opportunities for many Goshen College students to attain their degrees.
A regular donor, Albrecht gave $1.98 million worth of stocks to Goshen College in November 2014. It is one of the largest one-time donations by an individual in the college's history. Following Albrecht's recent death, another $3 million worth of Illinois farmland is being given to the college through an estate gift. The money from the estate will be put toward scholarships primarily for nursing students.
---
Consider giving your own gift – of any value – to GC today; every gift makes a difference in the lives of our students: goshen.edu/give
---
While he never studied medicine himself, it is a subject that had always intrigued Albrecht and he valued the nursing care he received while residing at Apostolic Christian Restmor in Morton, Illinois.
"Milo lived a simple life," said Herb Roth, Albrecht's cousin, financial representative and caregiver. "He didn't buy new cars and didn't buy a lot of clothes. He'd come up to the grain elevator twice a day, that was his social life. He enjoyed making money, but it gave him greater pleasure to give it away. He was a very generous person, a very quiet person and a very committed Christian."
Born Sept. 16, 1921 in Morton, he was the third son of Levi and Lydia (Roth) Albrecht.
In 1939, Albrecht followed his dream of attending college and excelled in algebra and geometry at Goshen College. After only three semesters, he was called home to work on the family farm when his brother Marion went into Civilian Public Service.
Albrecht continued to work on the farm until 1947 when, at the age of 26, he traveled to Poland for six months with Mennonite Central Committee. Working as a farm machinery instructor, Albrecht said he "saw lots of destruction" during that time, which would stay with him for the rest of his life.
When his time of service was finished, he returned to Morton. This time, however, it was to work on his own farm. He and Marion farmed together; Albrecht raised feeder cattle and his brother had dairy cows.
Roth believes that Albrecht, a lifelong farmer, became interested in the stock market by watching his grandfather, who had land investments in Louisiana. Albrecht began investing in his 20s and became serious about the stock market after he returned from Poland.  
"Every morning he had his devotionals, ate his breakfast and then he would read the Wall Street Journal with his calculator next to him, to see how his stocks were doing," Roth said.
It was around this time that Albrecht, who never married or had children, first began giving to Goshen College. He believed that giving was important, but that "not everyone could do it."
As Albrecht grew older and had more health issues, he asked Roth to assist him with financial matters.
"I was stunned when he told me how many assets he had," Roth said.
Few people in his home community knew about Albrecht's financial situation, and his generosity extended beyond just giving to the Mennonite church and Goshen College. According to Roth, Albrecht made anonymous donations to individual people he saw struggling financially.
"I went with him once to an attorney in Peoria, [and] he wouldn't tell me why," Roth said. "He told the attorney, 'I need you to send out [anonymous] checks to different people.' They were people who had medical problems or unfortunate circumstances. That's just the kind of things he did. He admired people who worked hard and lived a Christian lifestyle."
Roth emphasized that Albrecht didn't seek any acknowledgement for his giving and didn't want his name on any buildings. He just wanted to help students get an education.
"It's going to be a nice gift for the college," Roth said. "That's what he wanted to do, is to help people. It's his living gift."

---
Enjoy this video about Milo from November 2014: