Students in Inquiry Programs lead and learn through service
Fifteen Goshen College students are participating in Camping, Ministry and Service Inquiry Programs this summer, in locations across the United States.
The Inquiry Programs give GC students the opportunity to spend three months in a camp, congregation or service agency with the goal of exploring the intersection of faith and vocation, while also developing skills for leadership. Students connect with an on-site mentor who oversees and acts as a resource for the student.
Camping Inquiry Program
The Camping Inquiry Program (CIP) connects a student with a camping or retreat center in order for the student to experience a possible vocation in outdoor ministry or other venues of the church and vocation. CIP students participate actively in their community, both in the camp or retreat center and a local congregation.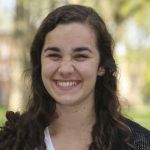 Abbie Kaser, a senior Spanish major from Elk Grove Village, Illinois, is serving at Menno Haven Camp in Illinois. Menno Haven is dedicated to providing a space for renewal and growth of body, spirit and relationships. During week-long youth and family camps, campers have the opportunity to try out lots of activities including boating and swimming, scaling a climbing wall and worshiping as a community. Abbie is the daughter of Brent and Leanna Kaser and attends Lombard Mennonite Church.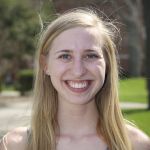 Lydia Hartman-Keiser, a junior elementary education major from Wauwatosa, Wisconsin, is serving at Camp Friedenswald in Michigan. Camp Friedenswald provides people of all ages the opportunity to grow in relationship with God, self, others and nature. Summer camp activities include swimming, kayaking, playing outdoor games like volleyball, hiking, making crafts, tent camping and worshiping and singing together. Lydia is the daughter of Steven and Lori Hartman Keiser and attends Milwaukee Mennonite Church.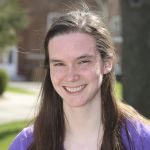 Roxanne Gehring, a sophomore music major from Manhattan, Kansas, is serving at Camp Mennoscah in Kansas. Camp Mennoscah offers summer camps from third grade to 12th grade, during which campers enjoy Kansas nature near the Ninnescah River and many opportunities to sing, grow and play. Roxy is the daughter of Barbara and Richard Gehring and attends Manhattan Mennonite Church.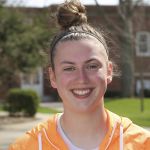 Skye McKinnell, a sophomore history major from Salem, Oregon, is serving at Drift Creek Camp in Oregon. Located near the Oregon coastline, Drift Creek Camp seeks to provide formative experiences for youth and provide a welcoming place for renewal in God's creation. Skye is the daughter of Jim and Trudy McKinnell and attends Salem Mennonite Church.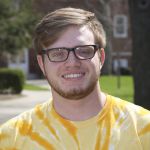 Tanner Engle, a sophomore nursing major from Decatur, Indiana, is also serving at Camp Friedenswald in Michigan. Tanner is the son of Gregory and Nedra Engle and attends Emmaus Road Mennonite Fellowship.
Ministry Inquiry Program
The Ministry Inquiry Program (MIP) facilitates student engagement with congregational ministry, both through active participation and observation of others. MIP students explore a possible vocation in ministry through activities that may include worship leading, teaching in Bible or Sunday school, pastoral visiting, community service or preaching.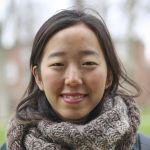 Dona Park, a senior history and art double major from Abbotsford, British Columbia, is serving at Mt. View Mennonite in California. Dona is the daughter of Joon Hyoung Park and attends Emmanuel Mennonite Church.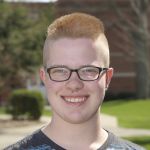 Eli Studebaker, a junior Bible and religion major from Goshen, Indiana, is serving at Hyattsville Mennonite in Maryland. Eli is the child of Michael and Angela Studebaker.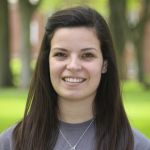 Emily Evans, a junior American Sign Language major from Lititz, Pennsylvania, is serving at College Mennonite in Indiana. Emily is the daughter of Jim and Glenda Evans and attends Groffdale Mennonite Church.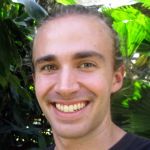 Isaiah Friesen, a senior double majoring in peace, justice and conflict studies and Spanish from Filley, Nebraska, is serving at Belmont Mennonite in Indiana. Isaiah is the son of Merlin and Rita Friesen and attends First Mennonite Church.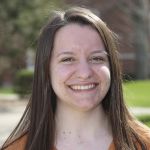 Monica Miller, a junior music major from Chambersburg, Pennsylvania, is serving at Kern Road Mennonite in Indiana. Monica is the daughter of Ray and Virginia Miller and attends Marion Mennonite Church.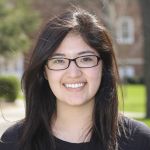 Yari Coronado, a junior nursing major from Pettisville, Ohio, is serving at North Goshen Mennonite in Indiana. Yari is the daughter of Juan and Gloria Coronado and attends North Clinton Mennonite Church.
Service Inquiry Program
The Service Inquiry Program (SIP) sends students to a church-related service or mission agency, where they provide direct, meaningful service to others, are exposed to societal inadequacies and injustices, encounter people from other cultures and develop insight into service agency needs and requirements. SIP students are active participants in their community, including both the service placement and a local congregation.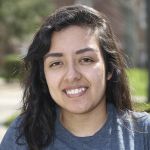 Alma Carillo Flores, a senior interdisciplinary major from Mexico City, Mexico, is serving with DOOR Chicago in Illinois. DOOR is a faith-based network of cities that provides opportunities for service, learning and leadership development within the urban context by highlighting the strengths of each city. Alma is the daughter of Martin Carrillo and Angeles Flores.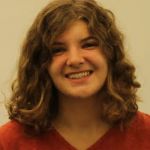 Helena Neufeld, a senior from Lititz, Pennsylvania double majoring in English and interdisciplinary, is serving at the Lancaster Mennonite Historical Society in Pennsylvania. The historical society preserves and interprets the culture and context of Mennonite-related faith communities related to Lancaster County through preservation and accessibility of artifacts as well as educational programs. Helena is the daughter of David Neufeld and Donna Stoltzfus, and attends the Community Mennonite Church of Lancaster.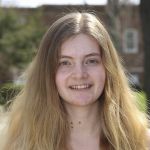 Joelle Friesen, a senior majoring in molecular biology and biochemistry from Normal, Illinois, is serving at the Immanuel Health Center in Illinois. The health center seeks to provide faith-based holistic care for patients, including primary medical care, social and behavioral services, counseling and spiritual care and community referrals. Joelle is the daughter of Jon and Janelle Friesen and attends the Mennonite Church of Normal.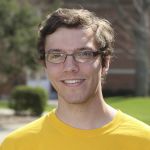 Peter Paetkau, a senior double majoring in music and Bible and religion from Goshen, Indiana, is serving with the Hartford Catholic Worker in Connecticut. The Hartford Catholic Worker is a community of Catholics and like-minded friends in Hartford who works to end violence and poverty. Peter is the son of Don and Brenda Paetkau and attends Eighth Street Mennonite Church.
– By Grace Weaver '16