Notre Dame art professors to exhibit sculptures in Hershberger Art Gallery
Exhibit: Austin Collins and Bill Kremer
Dates: Sunday, June 12 – Sunday, September 18
Reception date and time: Sunday, September 18, 2-3:30 p.m., followed by an artist talk
Location: Music Center's Hershberger Art Gallery
Cost: Free and open to the public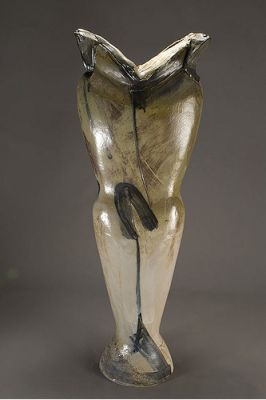 ---
Austin Collins and Bill Kremer, professors in Notre Dame University's Department of Art, Art History and Design, will exhibit their work in the Goshen College Hershberger Art Gallery beginning June 12. A reception will take place on Sunday, Sept. 18, followed by an artist talk. The exhibit, reception and talk are all free and open to the public.
Collins is a sculptor known for his large-scale metal work that draws on and extends the Modernist tradition. His area of practice includes public art, large outdoor sculpture, installation art and liturgical art, often dealing with themes of political and social issues.
Featured in 137 exhibitions and included in more than 57 public and private collections, Collins's work has exhibitions all over the United States. He has also given 35 public lectures on his work at various institutions, now including Goshen College.
Kremer's medium is ceramic art, representing both ceramic sculpture and traditional pottery. Kremer is known for his work and innovations using large-scale molds as a means to construct sculptural vessel forms. The resulting forms are salt- and wood-fired in a thirty-foot anagama wood-fired kiln.
Describing his work as "sculptural vessels," Kremer creates forms that reflect both the traditional pottery vessel and the human figure.
Kremer's work has been exhibited around the country and has been represented by numerous galleries. His work has been shown in more than 150 exhibitions and workshops.