Free performance features fables and folktales for all ages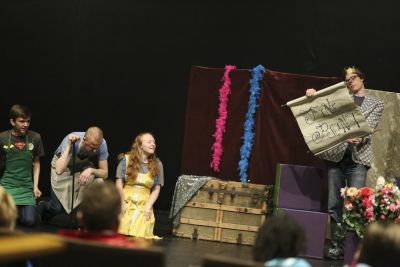 Performance: Fantastic Fablers
Date and time: May 17, 7 p.m.
Location: Goshen College Umble Center
Cost: Free
---
The Goshen College Theater Department will present "Fantastic Fablers," a free half-hour play featuring a collection of fables and folktales for all ages, on Tuesday, May 17, at 7 p.m. in the Goshen College Umble Center.
The free production is appropriate for all ages and open to the public.
The show is a product of a May term class called Touring Theater for Young Audiences, taught by Doug Liechty Caskey, professor of theater. The class is currently touring the show at Elkhart County elementary schools.
Students involved in the production include Rachel Buckley, a first-year theater major from Elkhart; JD Hershberger, a junior broadcasting major from Hesston, Kansas; Mary Seeck, a first-year psychology major from Cincinnati, Ohio; Samantha Horsch, a sophomore broadcasting major from Goshen; James Lang, a sophomore theater major from Portland, Oregon; and Riley Woods, a junior theater major from North Manchester, Indiana.