Exhibit details millrace history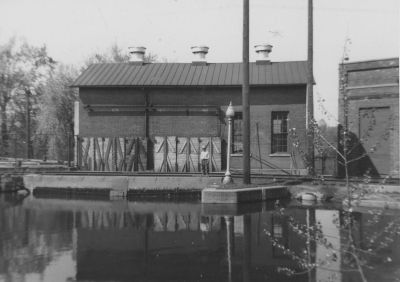 Exhibit: "Millrace: Past and Present"
Date & Time: Friday, May 6, 5-9 p.m.
Location: Goshen Farmer's Market Building
Cost: Free
---
The story of Goshen's millrace, from construction in the 1860s to its redevelopment today, will be presented in a new collaborative exhibit to be unveiled during First Fridays.
The exhibit, "Millrace: Past and Present," will be displayed from 5 to 9 p.m. in the Goshen Farmer's Market during the May 6 First Fridays event. The exhibit was prepared by students from the Goshen College Sustainability Leadership Semester in conjunction with the Goshen Historical Society.
Visitors to the millrace exhibit will learn about the industrial corridor that once encompassed the northern section of the millrace where the Farmer's Market and The Hawks apartments now stand. The First Fridays celebration will include river simulations for children, and will be educational for all ages.
After the project unveiling, the posters will be relocated to the Washington Street powerhouse for permanent display. The display will include a millrace timeline complete with photographs from the Goshen Historical Society archives.
The GC students also surveyed Goshen residents throughout the city to assess millrace usage, and these survey results will be available. The project is intended to help people understand the environmental and social connections between Goshen's history and the city's current community health.