Québec chamber group Les Violons du Roy to perform April 17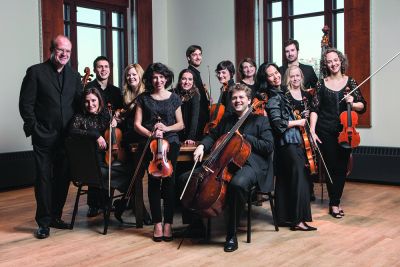 Concert: Les Violons du Roy
Date: Sunday, April 17, 2016
Time: 4 p.m.
Location: Goshen College Music Center's Sauder Concert Hall
Cost: $40, $35 or $23
Website
---
Praised by the Guardian for its "restless energy and esprit," The Canadian Baroque orchestra Les Violons du Roy will present a Performing Arts Series concert on Sunday, April 17 and 4 p.m. in the Goshen College Music Center's Sauder Concert Hall.
The 15-member orchestra, founded in 1984 by Bernard Labadie, is at the heart of the music scene in its home of Québec City, Québec. The orchestra specializes in the repertoire of music for chamber orchestra, but the group's approach to Baroque and Classical music has been heavily influenced by research of the 17th and 18th centuries.
Les Violons du Roy is well known throughout Canada, thanks to the Canadian Broadcasting Company (CBC), and has given performances in places such as France, Germany, Switzerland and Spain. Their first performance in the U.S. was in Washington D.C. in 1995 and has led to regular performances in New York City, Chicago and Los Angeles.
Since its creation, the orchestra has released an astonishing 29 albums, and has received numerous accolades including three Juno Awards and a Félix Award in 2008. Its most recent album, "Mozart Requiem—Reissue" was released in 2015.
Les Violons du Roy's performance will also feature French pianist Alexandre Tharaud, who will perform Mozart's Piano Concerto No. 9 "Jeunehomme" and Symphony No. 40 in G minor.
Tickets are $40, $35 and $23 and can be purchased online at www.goshen.edu/tickets or by contacting the Welcome Center at welcomecenter@goshen.edu or (574) 535-7566.