Department of Homeland Security's David Myers to speak about interfaith responses to disasters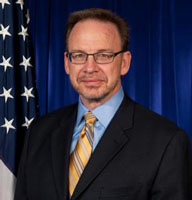 Yoder Public Affairs Lecture: David Myers
Date and time: Thursday, March 17 at 7:30 p.m. and Friday, March 18 at 10 a.m.
Location: Goshen College Church-Chapel
Cost: Free and open to the public
---
The Reverend David Myers, director of the Department of Homeland Security's Center for Faith-based and Neighborhood Partnerships, will present the 2016 Yoder Public Affairs lecture at Goshen College, titled "Blowing Down Fences, Making Good Neighbors: Interfaith and Intercultural Collaboration in Disasters" on Thursday, March 17 at 7:30 p.m. in the Goshen College Church-Chapel.
Disasters and emergencies create chaos and immediate community. Examples abound of cross-cultural and interreligious cooperation during the response phase of a disaster. However, as the recovery phase unfolds, pre-disaster barriers can re-emerge and even increase. Myers, who has deployed to more than 30 presidentially-declared disasters, will tell stories of community-building and offer personal reflections on why sometimes the new-found cooperation has not lasted.
On Friday, March 18 at 10 a.m., Myers will deliver a speech titled "An Unpredictable Pathway to Presidential Appointee" during a convocation in the Goshen College Church-Chapel. Both events are free and open to the public, and will be followed by a short question and answer session with the audience.
Appointed by President Obama in 2009, Myers heads one of 13 such centers in the federal government under the White House Office of Faith-based and Neighborhood Partnerships. Myers and his staff work to build, sustain and improve effective partnerships between the Department of Homeland Security and faith-based and voluntary organizations. In this role, Myers has personally led Center efforts at major disasters, working closely with senior governmental, state, local, faith-based and voluntary groups.
Myers also serves as senior advisor to FEMA Administrator, Mr. Craig Fugate and co-chair of FEMA's Tribal Integration Group. Myers' position requires daily coordination with White House and FEMA leadership. The Center's mission includes building connections to communities and groups marginally affiliated with emergency management systems. To accomplish this, Myers devotes much of his time supporting FEMA's voluntary agency liaisons and visiting FEMA regions, states and U.S. territories as a direct representative of White House and FEMA leadership.
Program areas include building resilience in diverse communities, combating human trafficking, enhancing tribal relationships, developing disaster survivor assistance engagement specialists for religious communities, and preparing houses of worship for times of crisis. Myers regularly deploys to disasters and emergencies to assist the White House and FEMA's engagement with faith-based groups.
Prior to joining DHS, Myers served faith-based and neighborhood organizations as an executive director and minister for twenty-five years, primarily in Chicago. These included Teen Living Programs, Center for Public Ministry, and three Mennonite congregations. Myers is a father of two adult children, and a grandfather of one grandchild.
The Frank and Betty Jo Yoder Public Affairs Lecture Series is an endowed lectureship that was created for Goshen College in 1978 by Frank (1917-1996) and Betty Jo Yoder of Goshen. The goal of the series is to enable faculty, students and community to hear well-known speakers address current issues.