High school, college men's choruses to perform during Feb. 9 Afternoon Sabbatical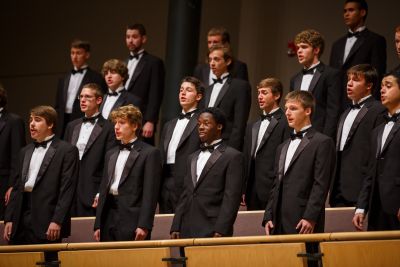 Afternoon Sabbatical: "All About that Bass (and Tenor)"
Date and time: Tuesday, Feb. 9, 2016 at 1 p.m.
Location: Goshen College Music Center's Sauder Concert Hall
Cost: Free and open to the public
---
Dr. Scott Hochstetler, associate professor of music and director of the Goshen College Men's Chorus, and Steve Snyder, director of the Goshen High School Crimson Men's Choir, will lead an Afternoon Sabbatical concert on Tuesday, Feb. 9 at 1 p.m. in the Goshen College Music Center's Sauder Concert Hall.
The choirs will perform solo and joint selections as they explore choral music of lower registers, including folk songs, spirituals, classical pieces and pop songs.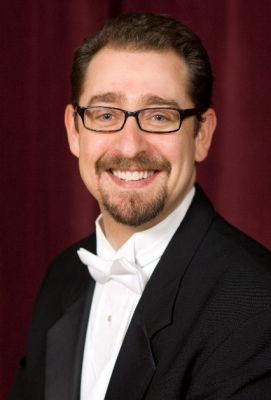 Dr. Scott Hochstetler is associate professor of music at Goshen College, where he teaches in the choral, vocal and opera theater programs. Dr. Hochstetler is a diverse conductor, having successfully led church, school, college and community ensembles, and worked with singers from novice to professional. Under his direction, the Goshen College Chamber Choir performed live on A Prairie Home Companion in May 2014. Hochstetler regularly clinics choirs and has led groups on tours throughout the United States and Canada. As a baritone, Dr. Hochstetler has performed opera and oratorio roles and given recitals in Indiana, Michigan, Ohio and Oregon. With graduate degrees from the University of Michigan and Michigan State University, Dr. Hochstetler has studied conducting with David Rayl, Sandra Snow, Jonathan Reed, Jerry Blackstone, Theodore Morrison and Kenneth Kiesler, and he has studied voice with Leslie Guinn, Stephen Lusmann and Doyle Preheim.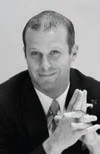 Stephen R. Snyder's connections with choral music began at a very early age—in fact, his mother and father first met in a church choir directed by his uncle. He received his initial collegiate musical training at Miami University in Oxford Ohio, and his Master's degree from Capital University. Snyder began his musical career as a music educator in Ohio public schools in 2001, and is currently in his fifth year of working for Goshen Community Schools. He founded the Goshen High School Men's Choir in the fall of 2011, and they have progressed from a small club of young men who enjoy singing to a well-established choral ensemble that has placed among the top single-gendered high school choirs in Indiana the last two years. Snyder also leads the Crimson Choir, the Beginning Guitar class, and assists with two of the bands throughout the school day. He conducts the pit orchestra for the spring musicals, including this year's show, Mary Poppins.
Future programs in the 2015-16 Afternoon Sabbatical series include:
Tuesday, March 8, 2016, 1 p.m., Music Center's Sauder Concert Hall
"Conflict Within Islam: The Sunni-Shia Divide," by Dr. Marlin Jeschke.
Free and open to the public.
Tuesday, April 12, 2016, 1 p.m., Music Center's Sauder Concert Hall
"May Term in England," by Dr. Doug Caskey, Dr. Debra Brubaker and Dr. Randy Horst.
Free and open to the public.