Goshen College ofrece clases de Inglés como segunda lengua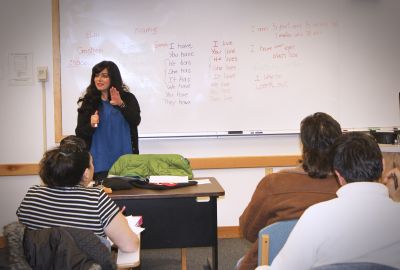 Goshen College comenzará a ofrecer clases de Inglés como Segunda Lengua a la comunidad de Goshen a partir del 22 de febrero de 2016, a través del Centro para la Educación Intercultural e Internacional (CIIE) de la propia universidad.
Las clases para principiantes y personas de nivel intermedio durarán doce semanas, del 22 de febrero al 19 de mayo, cuatro noches a la semana, y están abiertas a cualquier persona que quiera mejorar sus habilidades lingüísticas en inglés. Las clases cuestan 300 dólares y los planes de pago están disponibles. La fecha límite de registro es el miércoles, 10 de febrero.
"Las clases proporcionarán un espacio para que los miembros de la comunidad obtengan las habilidades lingüísticas necesarias que les integrarán aún más en la comunidad," dijo Gilberto Pérez, director senior del desarrollo intercultural y de las asociaciones de educación (senior director of intercultural development and education partnerships).
Los participantes que cumplan los requisitos de cada curso, obtendrán un certificado de su finalización.
Para más información o para registrarse, contacte Rocío Díaz en srociod@goshen.edu.