Campus Center for Young Children to host viewing party for "The Raising of America"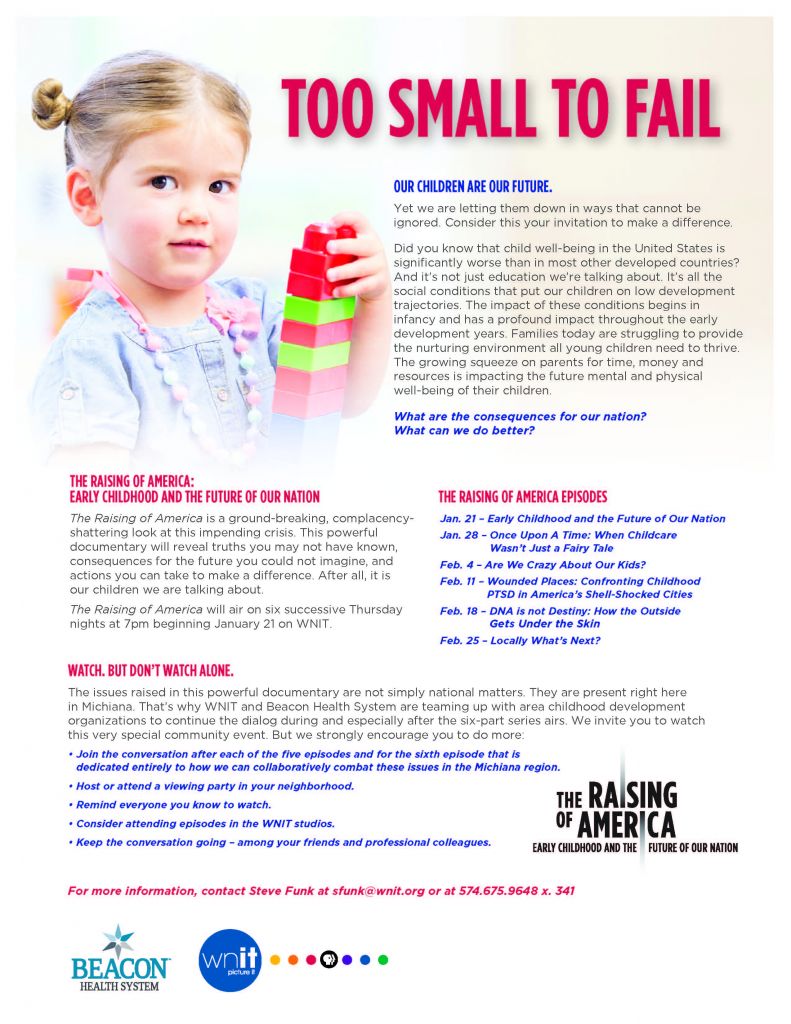 Event: Viewing party for "The Raising of America,"
Date and time: Thursday, Jan. 21, 6:30 p.m.
Location: College Mennonite Church Fellowship Hall
Cost: Free and open to the public
---
The Goshen College Campus Center for Young Children (CCYC) is hosting a view party of "The Raising of America," in conjunction with WNIT (channel 46, PBS) beginning Thursday, Jan. 21 at 7 p.m. in the College Mennonite Church Fellowship Hall. The Raising of America is a 5-part documentary series and public engagement campaign that explores how a strong start for all our kids can lead to a healthier, safer, better educated and more prosperous and equitable America. This event is open to the public and all are welcome. 

The Raising of America is the first national, fully integrated media/public engagement project that aims to reframe the way Americans look at early child health and development. The Raising of America Campaign films and resources are being used by hundreds of organizations concerned about the futures of young children and their families. Campaign Partners and others are holding community dialogs, policy forums, classes, trainings and other events to spark new conversations about what we as municipalities, states and the nation can do to make a strong start the birthright of every infant in the U.S, perhaps the most prudent investment any nation can make. Campaign Partners include both nationwide organizations with a broad reach and community organizations which dig in at the local level.
The issues raised in this powerful documentary are not simply national matters. They are present right here in Michiana. That's why WNIT and Beacon Health System are teaming up with area childhood development organizations to continue the dialog during and especially after the six-part series airs. We invite you to watch this very special community event. But we strongly encourage you to do more.