Rosanne Cash and John Leventhal coming to Goshen College Jan. 29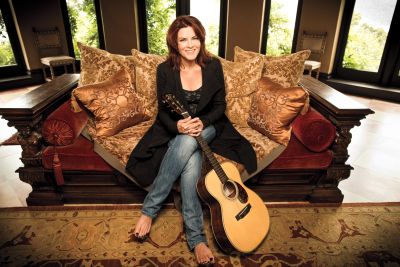 Performing Arts Series Concert: Rosanne Cash with John Leventhal
Date: Friday, Jan. 29, 2016
Time: 7:30 p.m.
Location: Goshen College Music Center's Sauder Concert Hall
Cost: $50, $45, $30 Buy tickets
---
Four-time Grammy Award-winning singer-songwriter Rosanne Cash will perform at the Goshen College's Music Center's Sauder Concert Hall with her husband, John Leventhal, on Jan. 29 as part of the college's 2015-16 Performing Arts Series.
In her nearly 40-year career, Cash has made a name for herself that extends beyond being the daughter of country-music icon Johnny Cash. With 11 No. 1 country singles, 21 Top 40 country singles and two gold records, Cash has risen beyond the country label, drawing on many genres including folk, pop, rock, blues and Americana.
Not only is Cash a prolific musician with thirteen studio albums, but she is also a talented writer. In 1996, Hyperion published her first collection of short stories, "Bodies of Water," and in 1997 Cash received an honorary doctorate from Memphis College of Art. Her pregnancy, as well as a two-and-a-half year musical hiatus due to a polyp on her vocal cords, provided her with time to focus on her writing. It was in this time that she published her children's book "Penelope Jane: A Fairy's Tale."
Leventhal is a New York City-based artist and a Grammy-Award winning musician, songwriter and producer who has produced albums for artists such as Michelle Branch, Rodney Crowell and the Wreckers.
For this performance, Cash and Leventhal will offer up an exciting show that demonstrates Cash's multi-Grammy-award-winning album "The River and the Thread." Cash's writing ability allows her to reconnect with her roots in the American South. The album, co-written by Leventhal, reflects stories and characters from her family.
Tickets cost $50, $45 and $30 and can be purchased at goshen.edu/tickets, at the Goshen College Welcome Center, or by contacting (574) 535-7566 or welcomecenter@goshen.edu. Tickets are limited.
---