Goshen College among locations for world's largest game development event Jan. 29-31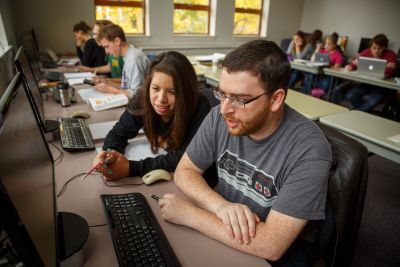 Event: "Goshen College Global Game Jam"
Date and time: Friday, Jan. 29, 5–10 p.m.; Saturday, Jan. 24, 10 a.m. – 10 p.m.; Sunday, Jan. 31, 10 a.m. – 3:30 p.m.
Location: Goshen College Union Building, rooms 001 and 004
Ages: 12+
Cost: Free, open for up to 40 participants. Register here
---
Programmers, artists, musicians and writers are invited to participate in the 2016 Global Game Jam (GGJ) at Goshen College, the world's largest game creation event, Jan. 29-31. A record 500 locations in 84 countries will participate in this year's event.
The event is free and open for up to 40 participants, and will take place Friday, Jan. 29, 5–10 p.m., Saturday, Jan. 24, 10 a.m. – 10 p.m., and Sunday, Jan. 31, 10 a.m. – 3:30 p.m. To register, visit globalgamejam.org/2015/jam-sites/goshen-college. Drinks and snacks will be provided.
The goal of the Global Game Jam is to come together and make a video game or non-digital game, such as a board game or card game. Participants rapidly prototype game designs and work within the 48-hour timeframe to fully realize their concept. The brief time span is meant to help encourage creative thinking to result in small but innovative and experimental games.
"It is a weekend of intense learning and using what skills you have to join others to create a digital or desktop game," said Jeanette Shown, associate professor of computer science and information technology, and organizer of the Goshen location. "If you have any interest at all in creating a game, or contributing to the creation of a game either through music, art, programming, storytelling or designing the game itself, this is an intensive positive experience to learn how to do it while collaborating and experiencing it with teams from around the world."
Participants work in conjunction with developers in other locations, rallying around a central theme, which is announced at the start of the GGJ. The goal is to generate experimental prototypes that teams can continue to work on after the jam. Many games developed in previous Global Game Jams have become fully realized games.
The GGJ is open source and all projects are protected under a creative commons license. Participants are encouraged to try out new ideas and push themselves creatively.
The first annual Global Game Jam was held in 2009. Last year more than 23,000 participants registered in 72 countries, with 4,292 game projects registered.
For more information, (contact Jeanette Shown at jlshown@goshen.edu.