Ben Runkel to present percussion recital Jan. 22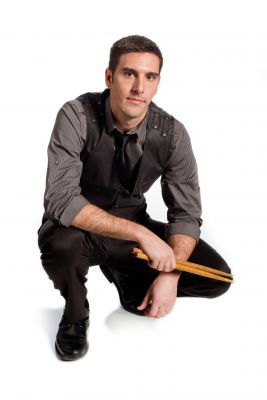 Concert: Faculty Recital: Ben Runkel, percussion
Date and Time: Friday, Jan. 22, 2016, 7:30 p.m.
Location: Rieth Recital Hall
Cost: Tickets: $7 adults, $5 seniors/students, available online at https://www.goshen.edu/tickets or by calling (574) 535-7566. GC faculty/staff/students free with valid ID.
---
Goshen College adjunct instructor of percussion Ben Runkel will present a percussion recital on Friday, Jan. 22 in the Goshen College Music Center's Rieth Recital Hall. The recital will begin at 7:30 p.m.
Runkel's program will be varied, and will feature a performance of "Borrowed Time" for percussion and organ by Dave Maric, and featuring GC instructor of organ Kevin Vaughn. Runkel will be joined by three other area percussionists in a performance of Paul Lansky's "Threads," a 10-movement percussion quartet.
Tickets are $7 for adults, $5 for seniors & students. Goshen College faculty, staff and students are free with valid ID. Tickets available for purchase online at goshen.edu/tickets or by calling (574) 535-7566.
Ben Runkel is a versatile percussionist, educator and composer who seeks to bring powerful experiences to his audiences through the percussive arts. A native of Naperville, Illinois, Runkel was a winner in the WAMSO Young Artist Competition and has been a soloist with the St. Paul Civic Symphony, Elkhart Municipal Band, Northern Indiana All-Star Band and the Northern Illinois University Philharmonic. Runkel has performed locally and internationally, and all across the United States as a member of the Madison Scouts and Blue Stars Drum and Bugle Corps.
Runkel currently serves as the adjunct professor of percussion at Goshen College and the percussion specialist for Concord Community Schools, Elkhart, Indiana, where he directs and coordinates all aspects of instruction and performance for percussion students at all grade levels. When he is not teaching, Runkel is an active freelance performer and educator in the Michiana area. He has worked with the South Bend Symphony Orchestra, Indiana University South Bend Ensemble Concept/21, South Bend Youth Symphony and Goshen College. Runkel is also an associate faculty member of the Birch Creek Music Performance Center Percussion and Steel Band Session in Egg Harbor, Wisconsin. Other groups that Runkel has taught with include the Madison Scouts Drum and Bugle Corps, the Pioneer Indoor Drumline, Naperville Central High School, Amos Alonzo Stagg High School and Plymouth High School.