Students code their way to success at computer programming competition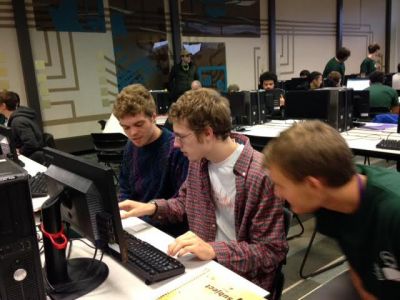 Two teams of Goshen College students competed at the 2015 Association for Computing Machinery (ACM) East Central North America Regional Programming Contest, sponsored by IBM, on Oct. 30-31.
About 130 teams from 55 universities in Ohio, Indiana, Michigan, Pennsylvania and Ontario, Canada, participated in the contest, which took place at four different sites. This was the first year a Goshen College team has competed in this contest.
The Goshen College teams competed at Grand Valley State University in Allendale, Michigan, where 26 teams from 11 schools participated. GC's "Code Purple" team placed 7th at Grand Valley and 31st overall.
The team was made up of Seth Yoder, a senior music and informatics major from Quakertown, Pennsylvania; Christian Stoltzfus, a first-year computer science major from Cair Paravel, Narnia; and Kenan Bitikofer, a sophomore music and computer science major from Saint George, Kansas.
GC's second team, "Code Purple II," placed 20th at Grand Valley and 98th overall. It included Matthew Pletcher, a senior computer science major from Nile, Michigan; Christian Bechler, a junior mathematics and history major from Hudsonville, Michigan; and Peter Schrock, a senior mathematics major from Goshen.
In the contest, teams of up to three students have five hours to solve as many "problems" as they can solve by writing computer programs.
"We had a slow start, but quickly refined our process, solving the easiest problems first and leaving the harder problems for later," said Bitikofer. "I'm confident that, with practice, we can take first in the coming years."
Related: alumni tech startup