Radio students and alumni win big in Indianapolis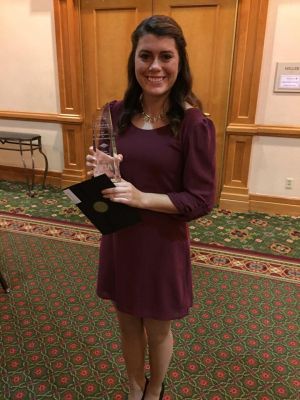 Goshen College's radio station, 91.1 FM The Globe (WGCS), took home a first place Spectrum Award at the Indiana Broadcasters Association's (IBA) 28th annual awards last weekend, the highest professional broadcasting award in the state of Indiana. 
The Globe won for "Local Community Involvement" with an anti-bullying PSA, written by Danielle Kerschhackl, a senior broadcasting and ASL double major from Elmwood Park, Illinois.
WGCS Programming Director Maria Bischoff, a senior broadcasting and communication double major from Carmel, Indiana, represented WGCS at the awards banquet in Indianapolis, which features the best work from radio and television professionals across the state. As a designated station within the South Bend radio market, WGCS is judged against the work of all member stations in Market Two (Evansville, Fort Wayne, Lafayette, Muncie, South Bend and Terre Haute), regardless of size or FCC licensure.
"My PSA was put alongside all the other broadcasters in the Media Two market," Kerschhakl said. "It wasn't judged as something a student would produce. It was dissected and analyzed like a work of a professional. It's nice to know that I can not only be successful amongst my peers, but also amongst my future employers and competitors."
Additionally, two Goshen College graduates won IBA Spectrum Awards in Indianapolis over the weekend. Jimmy Cassoday, a 2013 graduate, won a Spectrum Award for "Best Radio Commercial" in Market Three for his station, WCOE, out of La Porte, Indiana, where he is a production manager. Zach Miller, a 2008 graduate who works with Federated Media, earned a Spectrum Award for "Best Commercial Radio" in Market Two.
Kelsey James, a 2013 graduate and morning show host at WKKG out of Columbus, Indiana, was also on hand for her station as a finalist for "Best Website."