TODAY Show's Al Roker stops at Goshen College in world record attempt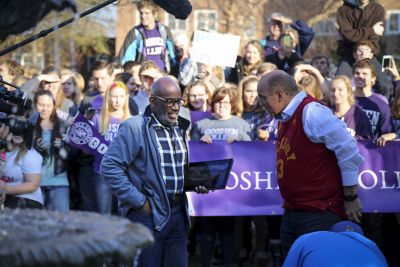 Goshen was TODAY Show meteorologist Al Roker's only stop in Indiana as part of "Rokerthon 2," in which he plans to report the weather from all 50 states in one week to set a new Guinness World Record.
WATCH on The TODAY Show: Al Roker visits Goshen
After visiting Missouri, Illinois, Kentucky, Tennessee and Arkansas, Roker's jet touched down at the Goshen Municipal Airport around 2:45 p.m. on Tuesday, about three hours behind schedule. A small crowd welcomed Roker on the tarmac before the TODAY Show team headed to Goshen College to do the weather.
Goshen College President Jim Brenneman and Provost Ken Newbold greeted Roker, who then made his way to the Adelphian Fountain, where a crowd of several hundred students, staff and community members welcomed him with cheers and signs reading things like "Welcome Al!" and "Goshen – best town under the sun."
Photos: Al Roker visits Goshen College
After speaking with Chuck Lofton, chief meteorologist on WTHR Channel 13 Indianapolis, and doing the weather report, students in the Goshen College choirs sang an updated version of the "AL-ma Mater," which was re-written with Roker in mind.
Roker shook some more hands and took a few more photos with fans before rushing off to his next location in Coldwater, Michigan. He ended the day in Montpelier, Ohio.
"We were so excited that Al Roker, the TODAY Show and the Rokerthon team came to this great community of Goshen, and we were happy to welcome him to our campus," said Jodi H. Beyeler, director of communication at Goshen College. "Al could have chosen anywhere to stop, but his commitment to service and having a good time doing it fit so well with the Good of Goshen spirit here. We hope the broader country got a taste of this irresistible little spot in Indiana."
"Rokerthon 2" will benefit Feeding America, an organization devoted to feeding those in need across the nation. Last year, Roker set a Guinness World Record title by delivering the weather live for 34 hours straight, raising $70,000 for the USO.
Roker will be delivering forecasts throughout his travels on "Today," local NBC affiliates, cable networks like CNBC, MSNBC, The Weather Channel and online.