Mother-daughter duo to display artworks in Hershberger Gallery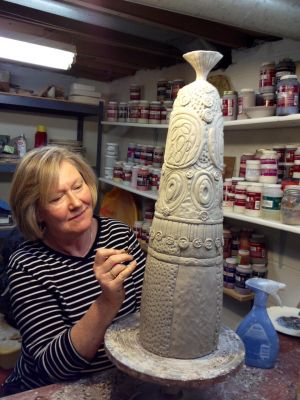 Exhibit: Brooke Marks-Swanson and Cynthia Marks
Dates: Sunday, Nov. 22, 2015 – Sunday, Jan. 24, 2016
Reception date and time:  Sunday, Nov. 22, 2-3:30 p.m., artist talk at 3:30 p.m.
Location: Music Center's Hershberger Art Gallery
Cost: Free and open to the public
---
Two generations Elkhart natives – Cynthia Marks and Brooke Marks-Swanson – will display their artwork from Nov. 22, 2015 through Jan. 24, 2016 in Goshen College's Hershberger Art Gallery. A reception and artist talk will take place Sunday, Nov. 22 at 2 p.m., with an artists talk following at 3:30 p.m. The exhibit, reception and talk are free and open to the public.
As a public school art teacher in Elkhart County, Cynthia Marks taught many mediums for 34 years, with clay being her dominant area. Upon her retirement in 2008, she created a small studio in her home, a welcome change from the hectic activity of the classroom.
"After seven years, the weekly routine is agreeable and my daily activities usually include art making," Marks said. "I am obsessed with historical research, drawing, and creating templates to hand build with a strong attention to form and heavily carved surface design and color."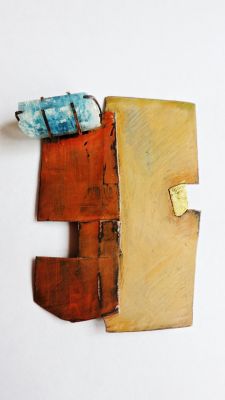 Marks' daughter, Brooke Marks-Swanson, is known for her unique painted copper wall sculptures and brooches. Using precious materials, she questions the affluence of abundance and violence through the fabric of the landscape.
"I aspire to portray my passion of working in metal through fabrication, chasing, mark-making, scratching and removing, resulting in pieces that provide information of the past while speaking of the present," Marks-Swanson said. "My objective is to cause the viewer to speculate, imaging and investigate a sense of place and beauty."
Marks-Swanson earned a bachelor's degree from Indiana University and a MFA from the University of Illinois School of Art and Design. She has studied in Italy, traveled to Switzerland, France, England, and most recently the Netherlands, and has participated in creative research in Poland, where her work is in a permanent collection in the Museum of Walbrzych.
Her current gallery representation include: Aaron Faber in New York City; Patina in Santa Fe, New Mexico; Mobilia Gallery in Cambridge, Massachusetts; and Velvet da Vinci in San Francisco. She was the recipient of the Indiana Arts Commission Individual Artist Program Grant in 2006 and is a member of the Society of North American Goldsmiths. Marks-Swanson resides and maintains a full time studio in South Bend and serves as an associate faculty member of jewelry design and metalsmithing at Indiana University South Bend.
"We are quite a family of creators," Marks-Swanson said. "Never was there a dull moment at our house."