Goshen College to host Mayoral Election Forum on Oct. 26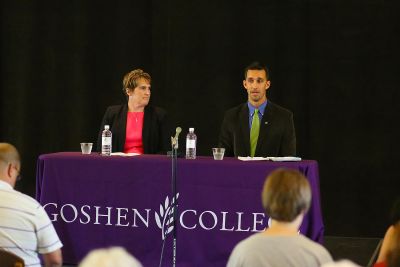 Event: Goshen Mayoral Election Forum
Dates: Monday, Oct. 26, 7 p.m.
Location: Music Center's Sauder Concert Hall (Map)
Cost: Free and open to the public
---
Goshen residents are invited to a Mayoral Election Forum at 7 p.m., Monday, Oct. 26 in the Goshen College Music Center's Sauder Concert Hall.
Civil City Engineer Mary Cripe and City Council Member At-large Jeremy Stutsman will engage in spirited debate about the major issues facing the City of Goshen and answer questions from the audience during the two-hour event. Goshen College President President James E. Brenneman will provide a welcome and introduction and Duane Stoltzfus, professor of communication, will serve as the moderator for the evening.
The format of the forum is designed to give candidates the opportunity to thoroughly discuss significant issues through their opening and closing statements, by answering questions about five key city matters and addressing questions submitted by audience members. The candidates also will have the opportunity to ask questions of one another.
The forum is being sponsored by the Yoder Public Affairs Lecture Committee. Frank and Betty Jo Yoder of Goshen created an endowed lectureship for Goshen College in 1978 with the goal of enabling faculty, students and community to hear nationally known speakers address current issues. Each year experts from a wide variety of fields and vocations visit campus. In recent years the lectureship has focused on local issues as well as national and international issues.
"Goshen College hosted a similar mayoral election forum four years ago and it was the best attended of the campaign season," said Richard R. Aguirre, a member of the Yoder Public Affairs Committee. "We also anticipate a large audience this year because this will be the last public opportunity before the Nov. 3 election to hear both candidates debate the major issues facing our city. We invite residents to bring their questions and their family members and friends for what promises to be a spirited debate."
Goshen's next mayor will succeed Allan Kauffman, who has served as mayor for 18 years. In addition to mayor, Goshen voters also will elect two at-large council members and councilors from five districts. The next mayor and council will determine the course of the city for the next four years and decide such crucial issues as budgets, taxes and fees, police and fire protection, civil rights, environmental initiatives, park improvements, redevelopment projects and measures to alleviate traffic in Goshen.
Cripe directs the City of Goshen Engineering Department, which is responsible for the planning, design, funding and construction management for all public works projects within the city. A Republican, Cripe is running with a slate of candidates under the "Together we are Goshen" banner. You can learn more about her at www.wearegoshen.org/mary-cripe.
Stutsman has served on the City Council for eight years and is the owner of Lofty Ideas, a company that specializes in commercial and residential restoration and design. A Democrat, Stutsman is running with a slate of candidates under the "Working for Goshen" banner. You can learn more about him at www.workingforgoshen.com.
The Goshen College Music Center is on the campus of the college. From SR 15 (S. Main Street), turn east at College Avenue and turn south on 12th street. The Music Center is on the right. From Lincolnway (US 33 S.), turn west at College Avenue and turn south on 12th street. The Music Center is on the right.
For more information about the election forum, contact Richard R. Aguirre, ​Goshen College director of ​corporate and ​foundation ​relations, at rraguirre@goshen.edu or (574) 535-7571.