Zorá Quartet set to perform Oct. 11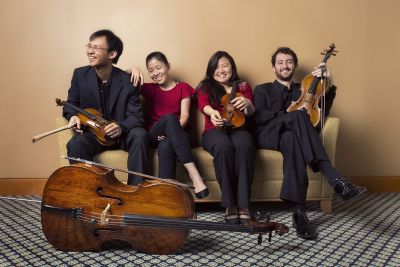 Concert: Rieth Chamber Series: The Zorá Quartet
Date and time: Sunday, Oct. 11, 4 p.m.
Location: Music Center's Rieth Recital Hall
Cost: $10 general admission. Tickets available at the Goshen College Welcome Center: (574) 535-7566 or welcomecenter@goshen.edu.
---
The Zorá Quartet, winners of the 42nd Fischoff National Chamber Music Competition, will perform at Goshen College on Sunday, Oct. 11 at 4 p.m. in the Music Center's Rieth Recital Hall.
Zorá String Quartet was formed in 2013 in Bloomington, Indiana. Violinist Dechopol Kowintaweewat initially performed with cellist Zizai Ning and violinist/violist Pablo Munoz Salido while they were all pursuing their Masters of Music at IU. Violinist Seula Lee joined in 2014.
Zorá String Quartet members hold graduate degrees in performance and chamber music from the Jacobs School of Music in Indiana University and were part of the Jacobs School of Music's prestigious Chamber Music Performer's Diploma from 2014-16. Some of their most influential mentors include the Pacifica Quartet, Atar Arad, Kevork Mardirossian, Eric Kim, and Grigory Kalinovsky.
The name "Zorá" was given by professor Kevork Mardirossian, meaning sunrise in Bulgarian. They are currently the Graduate Quartet in Residence at the Indiana University Jacobs School of Music under the tutelage of the Pacifica Quartet.
In addition to being Fischoff Grand Prize and Gold Medal Winners, Zorá Quartet was the Coleman-Barstow Prize winner at the Coleman National Chamber Music Competition in 2015. As part of their prize, they will tour the Midwest and appear at the 2016 Emilia Romagna Festival in Italy.
Traveling in the U.S., Canada and Europe, Zorá Quartet has performed in the Kennedy Center, Lincoln Center, Duke's Hall at Royal Academy of Music in England. Zorá Quartet has collaborated with the Pulitzer Prize-winning American composer Caroline Shaw to perform her works with the NOTUS Contemporary Ensemble in Fall 2013. In Spring 2014, Zorá Quartet was selected as the string quartet in residence to perform and study manuscripts at the Beethoven-Haus in Bonn, Germany. Zorá Quartet also performed in master classes for London Haydn Quartet, Keith Robinson, Koichiro Harada, members of Cleveland Quartet, The Silk Road Ensemble with Yo-Yo Ma and Noah Bendix-Balgley.
Zorá Quartet aspire to educate individual students, serve as a mentor for collegiate-level string quartets of Indiana University, and initiate active outreach projects in Bloomington to introduce new audiences to chamber music. Part of the non-profit organization, Zorá Quartet has worked with Reimagining Opera For Kids (ROK) and performs in the Wylie House Museum, Waldron Arts Center, and the Art Museum of IU Bloomington to bridge the gap better with the local community.