Connecting through music – and Google Hangouts
New "El Sistema: Music for Social Change" class connects GC students with teachers in L.A.

Goshen College students are quickly learning that El Sistema, a Venezuelan music education program designed to help children escape poverty and transform communities, is more than just a Thursday night video chat with a professor from across the country.
"El Sistema: Music for Social Change," is taught in collaboration with Longy School of Music of Bard College in Boston, with the idea that music can be a tool for social change. It's a natural fit with Goshen College's core values.
Last winter, Goshen College held a symposium on El Sistema, in partnership with Horizon Education Alliance (HEA) of Elkhart County. Longy's president, Karen Zorn, a 1984 Goshen College graduate, returned to GC as the keynote speaker. She was joined by Elsje Kibler-Vermaas, director of Longy's Masters of Arts in Teaching (MAT) satellite program in Los Angeles.
The symposium led to continued conversation between GC's Music Department chair Dr. Beverly Lapp, Zorn and Kibler-Vermaas, as they wrestled with the idea of somehow incorporating El Sistema into Goshen's curriculum. Their plan became a reality this fall with the addition of the music class.
The hiring of Dr. José Rocha this fall to join the college's music faculty added further strength to the plan. Rocha, who experienced El Sistema-based programs in his native Mexico, facilitates the weekly meeting of the course.
Not only does the class explore themes of using music for transformative social change, but the class is adapting to a new dependence on technology in the classroom, as the course is taught over Google Hangout sessions by Kibler-Vermaas and other faculty from the Longy Los Angeles campus.
The main text for the class is a book that chronicles the story of conductor Gustavo Dudamel and his experience with El Sistema in Venezuela.
Mikhail Fernandez, a senior from Hyderabad, India, sees the class as a good fit not only for Goshen College, but for himself as well.
"Music as a vehicle for social transformation is a concept that I firmly believe in," he said. "Goshen's core values are very similar to what El Sistema is trying to achieve."
Fernandez would like to see this taken even further, envisioning semester-long El Sistema intensives in Los Angeles, Venezuela or other potential locations to give students the opportunity see the program in action and actually participate. Whether or not that actually becomes a reality, Fernandez and the rest of the music students maintain that "music has the ability to unify communities and Goshen should be the front-runner of this ideal."
Lapp agrees. "Goshen College can and should think about how students can be prepared to use music to change the world," she said.
According to Lapp, El Sistema in the U.S. is distinctive from El Sistema in Venezuela because of different cultural contexts and funding sources. If El Sistema-inspired programs take hold in Elkhart County, Lapp notes, they will need to uniquely respond to the needs of this community. This course gives students the opportunity to not only deepen their understanding of music education curriculum, but how to apply their teaching and performance skills in diverse settings.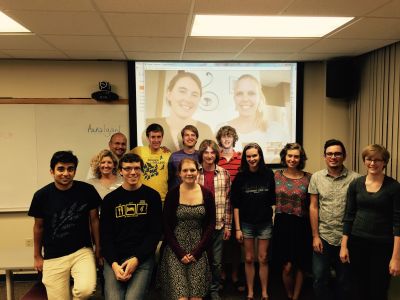 Putting El Sistema to use
Kibler-Vermaas teaches the class from the Longy campus in Los Angelese over Google Hangout video chat sessions. Lapp's biggest concern with the technological approach was that there would be a lack of personal connection between students and professor. However, Kibler-Vermaas was able to be on the Goshen campus for the first class session, and has been building relationships with the students since.
Even though she is not physically present, Lapp says that Kibler-Vermaas works hard to maintain a positive classroom spirit, even from 2,000 miles away. GC has worked hard to make this collaboration a reality, and has worked closely with ITS Media on campus to be able to effectively use the necessary technology in the classroom.
Classroom style is obviously different, and students have had to adjust as well. Fernandez mentions occasional stutters in Internet connection and frozen screens, but overall is satisfied with how the collaboration is being handled. Kibler-Vermaas invites critique and participation often from students, who have had to learn technological etiquette such as raising a hand when speaking to make it obvious who is talking on the video chat.
Goshen College and Longy professors all hope to capture the spirit of El Sistema, and pass it on to future educators like Hillary Harder, a 2015 Goshen College graduate who is now a student in the MAT program at Longy in Los Angeles.
Harder is putting some of these skills and interests to use as she aims to make a difference in the world through music.
"I was drawn in by El Sistema's ideals of inclusion, community-building and social transformation through music," Harder said. "I realized that I wanted to pursue a career in music where I could help to empower youth through education—especially those youth who might have the least access to music otherwise."
Harder hopes to return to Elkhart County when she graduates to put her education into practice.
As Harder described, "El Sistema is not a hard-and-fast method of music education — it's an overarching philosophy, a way of being, a state of intense musical and social development within community."
— By Katie Hurst