Clay artist Dennis Maust's Middle East-inspired pottery on display in Hershberger Art Gallery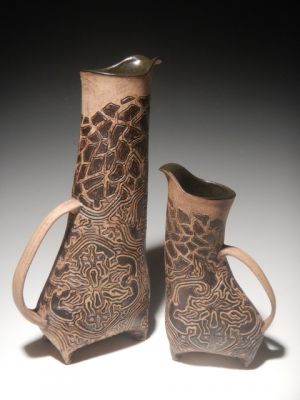 Exhibit: Dennis Maust
Dates: June 7 – September 27, 2015
Reception date and time: Sunday, Sept. 27, 2–3:30 p.m. An artist talk will follow at 3:30–4:30 p.m.
Location: Music Center's Hershberger Art Gallery
Cost: Free and open to the public
---
Artwork by ceramic artist and Goshen College alumnus Dennis Maust is currently on display in Goshen College's Hershberger Art Gallery. A reception will take place Sunday, Sept. 27, from 2–3:30 p.m. with an artist talk from 3:30–4:30 p.m. The exhibit is free and open to the public.
The collection includes vessels and wall mounted pieces that reference historic pottery of the Middle East. In both his tile and vessel work, Maust has drawn from personal encounters with ancient Mediterranean monuments, Islamic architectural embellishments, Persian rug patterns, South Asian temple architecture and East African material culture.
"My work is motivated by concern for our contemporary world and current events," Maust's artist statement reads. "I wish to call attention to work that represents to me the great loss I feel, first for the human victims of the current conflict in that region, and second, for the lost, stolen or destroyed antiquities which represent humanities' cradle of civilization."
Maust was born in 1952 in Harrisonburg, Virginia. He attended both Goshen College and Eastern Mennonite University (EMU), graduating from EMU in 1975. After earning a Master of Arts degree in painting and ceramics from James Madison University, he and his wife lived overseas in Egypt, Pakistan and Bangladesh.
Upon returning to the states, he earned a Master of Fine Arts degree from the Rochester Institute of Technology's School for American Crafts. Since graduating in 1986 he has combined teaching ceramics and producing one-of-a-kind pieces in clay.
Maust has lived in Lancaster County, Pennsylvania, since 1990, with the exception of when he moved his family to Tanzania in East Africa in 1998-2001, where he was involved in product-design work with various craft groups.
Maust has had work in exhibitions across the country and his work has been published in Ceramics Monthly and Pottery Making Illustrated.