Youth Honors Orchestras to host meal and concert at the Goshen Farmer's Market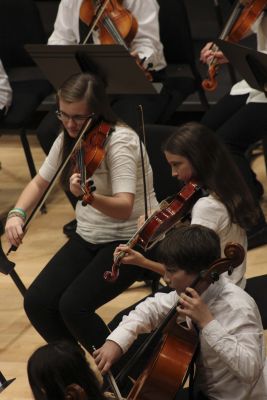 Event: YHO Fundraiser Dinner and Fiddle Jam
Date/Time: Saturday, Aug. 22, 5 – 7 p.m.
Location: Goshen Farmer's Market, 212 W. Washington St.,
Cost: $10, available through YHO musicians or at the Goshen College Music Center Main Office
The Elkhart County Youth Honors Orchestras (YHO) will be holding a fundraiser dinner and Fiddle Jam on Saturday, Aug. 22 from 5 – 7 p.m. at the Goshen Farmer's Market, 212 W. Washington St. in Goshen.
Participants will be treated to a meal featuring Miller Amish Country chicken sausage, fresh corn on the cob, homemade potato salad and homemade pie. The Fiddle Jam will feature the members of the Elkhart County Youth Honors Orchestras, conducted by Kyle Miller.
Tickets cost $10, with all proceeds going to benefit the educational programs of the Youth Honors Orchestras. Tickets can be purchased from YHO student musicians, or at the Goshen College Music Center main office. The YHO is an ensemble of the Community School of the Arts, which offers a variety of private music lessons, ensembles, and music classes to students of all ages and ability levels.
For more information call YHO Program Director Rosalyn Troiano, 574/536-9795.