Music Together® summer classes for young children offered through Community School of the Arts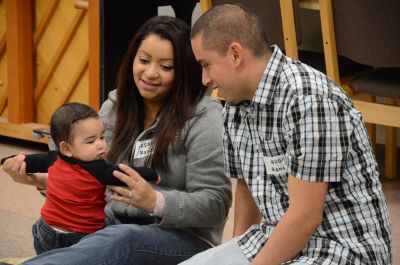 The Goshen College Community School of the Arts (CSA) is accepting registrations for Music Together® music and movement classes for young children from birth to age 5 and their families, to be held in June and July 2015. Classes will be held in Elkhart and Goshen.
In the Music Together program, children attend a weekly 45-minute class with a parent, grandparent or other caregiver, and receive a songbook and CD for home listening. Summer sessions are six weeks. Because young children learn primarily through play, the program provides a fun, relaxed musical environment with trained and registered Music Together teachers who facilitate a non-formal teaching approach.
Six-week sessions in Goshen will begin Tuesday, June 16, at the Goshen College Music Center, taught by instructor Jenny Campagna. Classes will be held at 10 a.m. or 6 p.m. An additional six-week session will be offered beginning Thursday, July 9, at 10:30 a.m. at Goshen's First Presbyterian Church, taught by instructor Katie Carl.
Summer sessions in Elkhart will be held Mondays starting June 15 at Prairie Street Mennonite Church. Class times are 10 a.m., 5:30 p.m. and 6:30 p.m., and are taught by Tracey Weirich.
Tuition is $100 for one child and includes all classes and materials. Additional siblings from birth to age 5 may join the class for only $15 each. Reduced tuition is available to any family whose income qualifies them for free or reduced lunch in the Federal Free or Reduced Lunch program. The Music Center is committed to making this program available to every family who would like to participate.
To register online, or for additional information including specific class schedules and locations, visit www.gcmusiccenter.org. Patrons can also contact the Music Center Main Office at (574) 535-7361. Participants are encouraged to register as soon as possible to ensure enrollment in their desired class. Class sizes are limited to 12 children.
First offered to the public in 1987, the Music Together® program is now offered in over 2,000 communities worldwide. Goshen College has been a Music Together center since 2009, impacting hundreds of families in Elkhart County and beyond with this family-centered, educational curriculum.